Greg Rutherford: Olympic gold medallist reflects on career before Anniversary Games
Last updated on .From the section Athletics72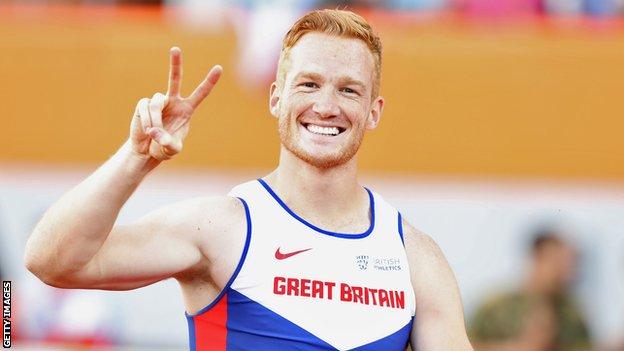 Muller Anniversary Games
Venue:
London Stadium
Date:
21-22 July
Coverage:
Live coverage on BBC One and BBC Two, with text commentary on the BBC Sport website and app.
Full details
The 2018 edition is a very different Greg Rutherford.
Compared to the Olympic gold medal winner, he is six years older and several pounds heavier, with a few more creases round the eyes, plenty more creaks in the joints and lower expectations in mind.
He returns to London Stadium on Sunday for the Anniversary Games in search of memories rather than medals.
"I am just a bit broken," the 31-year-old British long jumper told BBC Sport.
"I am not coming in to win because I just don't really have that in my body. I just want to go out and enjoy.
"In 2012 the whole aim was to try and win the Olympic title. This time I am going to try and give back to the crowd, take as many selfies as I can and sign as many autographs as I can."
Right ankle, left ankle, groin, abdominal muscles, hamstrings - over the years, all have failed as Rutherford flung himself eight metres plus and to long jump titles at world, Olympic, Commonwealth and European levels.
It will take an amputation to fix his most recent problem. Fortunately, it is only a troublesome appendix which kept him out of the British Championships earlier this summer.
The operation is booked for the end of the year, after his retirement from the sport.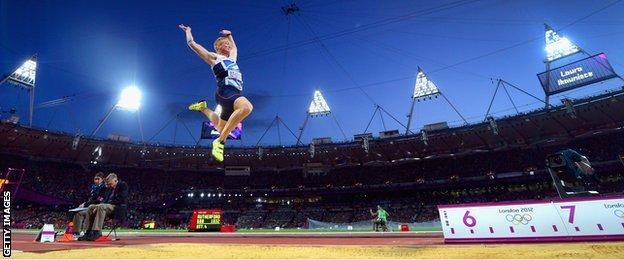 Barring a dramatic improvement in his form to force his way in the European Championship team, the Anniversary Games is Rutherford's first stop on a farewell tour that will also take in Birmingham's Diamond League meeting and the Great North CityGames in Newcastle.
It will not be goodbye to the public eye, though.
Two days after he clambers out of the pit for the final time on Tyneside, he starts filming on a yet-to-be-revealed television project.
It is seamless transition at a life stage that many athletes find to be more like an elephant trap.
Earlier this month, American Tianna Bartoletta, who won Olympic long jump gold at Rio 2016, revealed her own stark situation.
"If I left the sport today, I'd be leaving with six gold medals, three bronze medals and a world record - but I'd also be leaving with barely a nickel to my name to help propel me to my 'next thing'," she wrote on her blog.
Rutherford has been planning for his retirement since he was a teenager.
"The first ever time I was interviewed by the BBC was as a European silver medallist in 2006," he remembers.
"I wanted the interview to go well because I knew that television and broadcasting was what I wanted to get into.
"I was berated after the Olympics for appearing here, there and everywhere - but I had to. There were 29 British gold medallists at London 2012.
"I was astute enough to realise that not many of those were going to become names that people remember.
"Jess Ennis-Hill and Mo Farah were always going to be the superstars, I had to hang onto their coat-tails as much as I could.
"I had my moment and I had to capitalise to create a life for myself and my family."
Rutherford's IMDB entry lists 30 television credits, with only London 2012 and Rio 2016 - listed as 'mini-series' - involving his day job of athletics.
Appearances on Strictly Come Dancing, The Crystal Maze, Battlechefs, Time Crashers, The Cube, Celebrity Juice, 8 Out Of 10 Cats and many, many more have given him the mainstream recognition for which athletics itself has struggled in recent years.
Last weekend's Athletics World Cup at the London Stadium, last year's Nitro Athletics event in Australia and various city-centre street stunts have attempted to capture new fans.
But Rutherford thinks the problem starts at the top.
"Athletics is a professional sport run by amateurs," he adds.
"You could take most athletics competitions, show them to a fan from a century ago and they would completely recognise the sport. We need to open up and change. Everything is commercialised and athletics doesn't do that.
"We need to look at other sports. If a sport like darts can become as exciting and big as it has, then we know athletics can."
Allowing sponsors more space on the sport's stars is one of his suggestions. The possibility of Indian Premier League cricket-style city franchises is another.
And if you build it, Rutherford believes that they will come.
"Events like this weekend are incredible. We have a field on par with any World or Olympic final," he said.
"When people see it in real life, guys leaping out over eight metres, the sheer speed of the sprinters, the drama of the distance events - they understand that our sport is really, really special."