Russia doping: Country still suspended by IAAF despite 'improvement'
Last updated on .From the section Athletics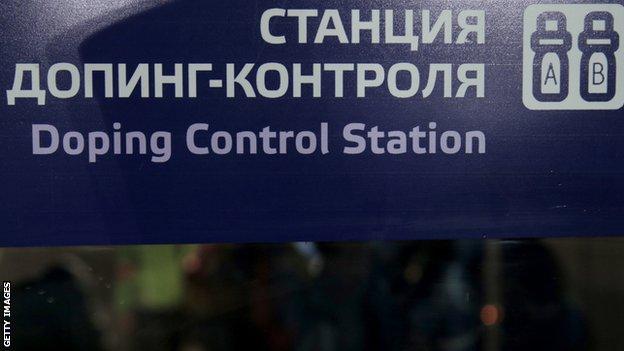 Russia remain suspended from international athletics despite making "significant" improvement in key areas, says the IAAF.
Russia were first suspended in November 2015 over evidence of state-sponsored doping.
Although the country has "gone above and beyond what is required", the IAAF said they were "unanimous" in their decision - just 10 days before the start of the European Championships in Berlin - to retain the ban.
"There are still some gaps to be filled," said IAAF president Lord Coe.
"Progress has been made in key areas, but we aren't yet at that point where every element of that (reinstatement) criteria has been met."
Rune Andersen - the head of the IAAF's Russian taskforce team - said three demands must be met for Russia to be reinstated.
Firstly, the Russian athletics federation (RUSAF) must pay for the costs incurred by the IAAF in the wake of the doping scandal, notably the establishment of the taskforce.
The Russian Anti-Doping Agency (Rusada) must also be reinstated by the World Anti-Doping Agency (WADA), with a key requirement being the acknowledgement by Moscow that ministry of sport officials orchestrated the doping of Russian athletes.
And finally, Russian authorities must give access to doping tests carried out at Rusada's Moscow laboratory between 2011-15.
Russia has repeatedly denied running a state-sponsored doping programme, but evidence of state involvement in the systemic doping of Russian athletes was compiled in the 2016 McLaren report.
Its conclusions - and that of a later International Olympic Committee (IOC) report - led to the country being banned from February's Winter Olympics.