European Championships 2018: British sprinting - what is going so right?
Last updated on .From the section Athletics89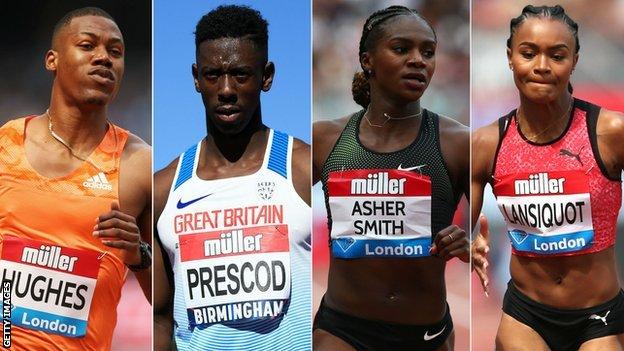 Athletics European Championships
Venue:
Olympic Stadium, Berlin
Dates:
7-12 August
Coverage:
Live across BBC TV, BBC Radio 5 live and sports extra plus the BBC Sport website with further coverage on BBC iPlayer, Red Button, Connected TVs and mobile app.
It is telling to look at the small print rather than the stellar names of British sprint selection for the European Championships in Berlin.
Ojie Edoburun is an athlete full of promise rather than one of the headline acts.
The 22-year-old, who won the European under-23 100m title last year, has gone faster than all but three continental Europeans this season.
In previous years, he might well have got his chance in Berlin. In this one, he is travelling only as a spare wheel for the relay squad.
Zharnel Hughes - the continent's, and briefly the world's, fastest man in 2018 - CJ Ujah - last season's Diamond League champion - and Reece Prescod - a World Championships finalist with a wind-assisted 9.88 seconds to his name - instead form a three-pronged assault that could well complete a clean sweep in the 100m final.
Britain's sprint squad for European Championships

Men's 100m

Men's 200m

Women's 100m

Women's 200m

Zharnel Hughes
Adam Gemili
Dina Asher-Smith
Dina Asher-Smith
Reece Prescod
Nethaneel Mitchell-Blake
Imani-Lara Lansiquot
Beth Dobbin
CJ Ujah
Delano Williams
Daryll Neita
Bianca Williams
Jodie Williams
To further illustrate the depth of British sprinting, Adam Gemili and Nethaneel Mitchell-Blake, both with sub-10 second personal bests over the shorter distance, are concentrating on the 200m rather than attempting to double up.
Dina-Asher Smith, supported by Imani-Lara Lansiquot and Daryll Neita, is the fully justified gold medal favourite in the women's 100m.
She is also aiming to defend the 200m title - an event in which five of the European top 10 are British.
Both relay teams are global powers who should breeze to continental glory with some to spare.
And the future looks bright with Jona Efoloko and Charlie Dobson doing a 200m one-two in the World Under-20s Championships.
So what is going so right?
Danny Talbot and Desiree Henry have the inside track. The pair, who are working back from ankle and knee operations respectively this season, have collected world and Olympic medals as part of Great Britain's 4x100m relay teams. Talbot has also won two European bronze medals over 200m.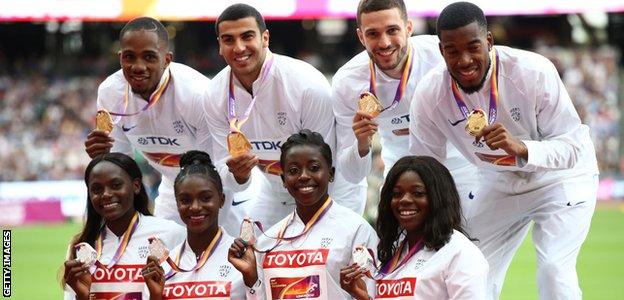 Domestic rivalries ratchet up the quality
"We have a lot more guys running fast times now," explains Talbot.
"They might not be faster than we have ever seen before and they may not be running individual British records - but we have such great depth.
"We all want to be the best in Britain and to do that now in my event - the 200m - you have to be top five in the world.
"Adam Gemili came fourth at Rio 2016; Nethaneel Mitchell-Blake did the same in London 2017.
"When I first start making the team, all you had to do was make the semi-finals of the Worlds or Olympics.
"I want to be the first to win an individual world or Olympic sprint medal since Darren Campbell in 2004, and I know the others want to do that too. All of us are pushing one another."
In addition to Asher-Smith mixing it with the world's best, 20-year-old Lansiquot clocked a personal best of 11.11 - Europe's eighth fastest time of 2018 at London's Anniversary Games - last month.
"These girls are going in knowing that they have taken on the best in the world," adds Henry. "Now the opposition is limited to just the best in Europe, they are all going in with a high chance of a medal."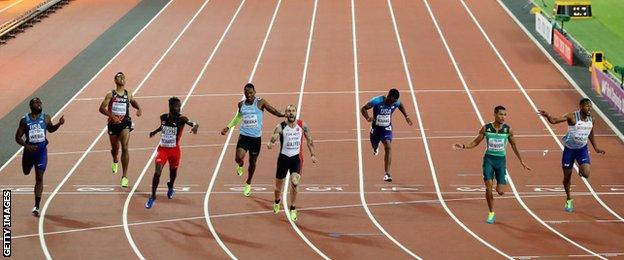 'Little Britain' mentality gone
Long, lonely training sessions in the cold and wet are no longer where British sprint success is born.
Ujah and team-mate Jodie Williams train alongside the likes of Canadian Andre de Grasse, who won a bronze medal in the 100m and silver in the 200m at Rio 2016, and American Aries Merritt, the 110m hurdles world record holder, as part of a group out in Arizona, USA.
Gemili - like Henry - works under American coach Rana Reider as part of a stellar group of global athletes in the Netherlands.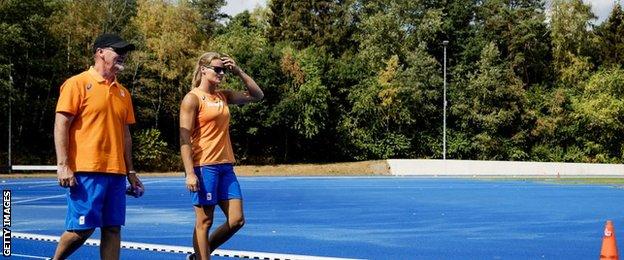 Mitchell-Blake has been honed in the fiercely competitive collegiate system in the United States, while Hughes has shared a practice track and coaches with eight-time Olympic gold medallist Usain Bolt in Jamaica.
Talbot - like Prescod - trains at British Athletics' own elite centre in Loughborough and says British sprinting's horizons are broader for those diverse influences.
"I love sitting down with Nethaneel because he has grown up in the Jamaican and American system," says Talbot.
"In Britain we are very modest and don't like to big ourselves up too much. That is not to say that Nethaneel isn't modest.
"But he has a mindset where he is not afraid to say that he wants to win things.
"That has rubbed off."
Teamwork to make the dream work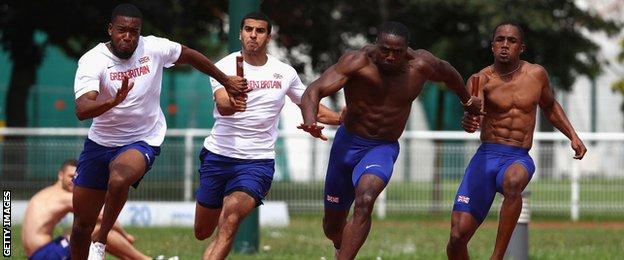 There was a time when British sprinting was at war with itself.
Four years ago, James Dasaolu won the British Indoor Trials in Sheffield, wagging a finger at rival James Ellington in celebration after crossing the line.
It was only the tip of a very frosty iceberg.
Behind the scenes and before the race, the pair had been involved in a heated argument that reportedly had come close to a physical scrape.
The friction between the two was part of a wider feud between two principal training groups run by Reider and Steve Fudge.
Now, personalities have changed, coaching set-ups are more disparate and, buoyed by relay success, a new ethos has emerged.
"It is like a sisterhood or family," says Henry of the atmosphere on the week-long relay camps that were held in the Bahamas and Portugal last year.
"We are so synched up in competing, training and being together in practice."
"It's brilliant," adds Talbot. "We are all young and hungry to succeed. We are always trying to outdo each other.
"We have got a really good line between banter and being serious."
No substitute for experience
After Britain's male sprint quartet spiralled out of the 2015 World Championships to extend a miserable streak of major championship form, questions were asked over the money spent on such camps.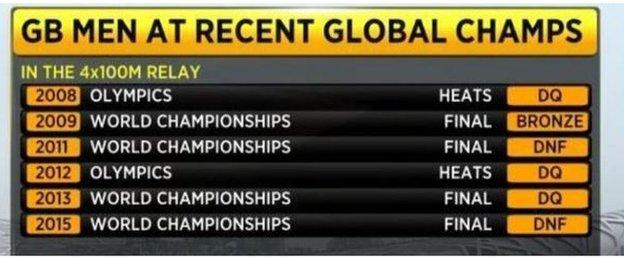 Liz Nicholl - chief executive of the UK Sport body that dishes out funding for elite sport - told athletics bosses to "get a grip of that team" and relay coach Stephen Maguire came under pressure from the media and some of his own athletes.
But British Athletics continued to fund extra sprinters with an eye on the relay medals, a decision that has not always proved popular with other squad members.
Their faith paid off.
In the wake of recent success, Maguire, along with fellow relay coaches Benke Blomkvist and Christian Malcolm, picked up a slew of awards for their work.
There has been a less obvious dividend as well.
Just as a 17-year-old Asher-Smith got her first global championship experience as a member of the bronze-winning 4x100m relay team in Beijing, it has provided a low-key learning experience for other young prospects.
Lansiquot is the latest to benefit.
"At the past couple of championships she has been at least a part of the relay pool," explains Henry.
"She asks a lot of questions and realises she is around a lot of great athletes and it is a chance to pick as many brains as she can.
"They experience the warm-up area, the atmosphere around the event - and that is great preparation for the future."