European Championships: Different feel from Glasgow 2014 - Katherine Grainger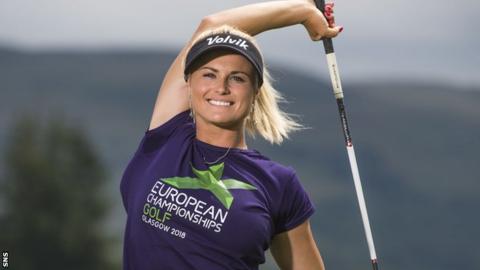 The Chair of UK Sport Dame Katherine Grainger wants the Glasgow public to embrace the European Championships the same way they did with the Commonwealth Games four years ago.
The first European Championships feature seven sports over 11 days, split between Glasgow and Berlin.
More than 4,500 athletes are expected to compete for 188 gold medals.
"It's seven sports, not the huge number of sports we see at other events," said Grainger. "But it's really special."
The athletics will be hosted in Berlin, with swimming, gymnastics, cycling, rowing, triathlon in Glasgow.
Gleneagles will host the new European Tour event - European Golf Team Championships - which will comprise of men's and women's team match-play competitions, as well as an 18-hole foursomes strokeplay mixed-team championship.
"The European Championships in this form has never been done before," Grainger told BBC Scotland. "It's fabulous that Glasgow is going to be showcasing it.
"The key thing is it is the European championships, it's the best in Europe coming together, but for athletes they won't have competed in a multi-sport games. It will be different, it will feel bigger, busier, more distracted, more like an Olympic Games for those athletes.
"When you're an athlete you want to pick up the one title you haven't got. Most people won't have a European Championships title."