Wales name inaugural Commonwealth Half Marathon Championships team
Last updated on .From the section Athletics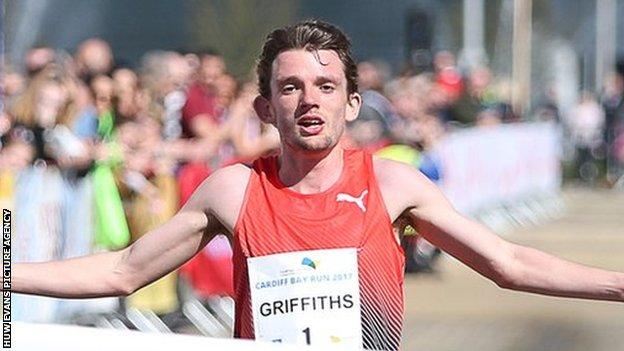 Britain's fastest marathon runner in 2017, Dewi Griffiths, has been named in Wales' team for the inaugural Commonwealth Half Marathon Championships in Cardiff.
Griffiths, who ran two hours nine minutes 49 seconds last October, is selected alongside Josh Griffiths, Andrew Davies and Kristian Jones.
Caryl Jones, Jenny Nesbitt, Rosie Edwards and Clara Evans are also included.
The race takes place on 7 October.
"It's an exciting prospect," Dewi Griffiths, 27, told BBC Sport Wales.
"The atmosphere around the World Half Marathon Championships in Cardiff (in 2016) was amazing so if it's anything like that it'll be an amazing Championships.
"Hopefully it'll be a big success and grow over the next five or 10 years."
The elite athletes will race ahead of 25,000 amateur runners as part of the 2018 Cardiff Half Marathon.
60 years since the Empire Games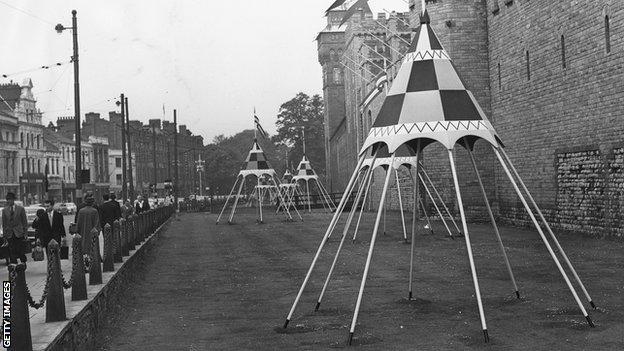 Six decades after Wales hosted the Empire Games, chief executive of Welsh Athletics Matt Newman described staging the first Commonwealth Half Marathon Championships as "an honour".
He added: "I'm certain it will prove to be another major addition to the rich sporting history of the city.
"It's very exciting to see such a strong Welsh team named for the Championship and highlights the strength in depth of distance running in Wales at this current time."
The Wales team features athletes with recent European, Commonwealth and World Championship experience.
The returning Dewi Griffiths, from Carmarthenshire, was in fine form at the end of 2017, finishing fourth at the Cardiff Half Marathon before setting the fastest marathon time of the year by a British runner later that month.
Shortly afterwards he tore a hamstring, withdrew from the 2018 Commonwealth Games and has managed only a handful of races since.
"It was hard to take, but I was pretty fortunate that I was only 26 at the time and still have my best years ahead," said Griffiths, who wants to run the marathon at the 2020 Tokyo Olympics.
"Hopefully it's been a blessing as I've been able to work on my weaknesses.
"I've already run a two-hour-nine-minute marathon so if I can make myself 0.5% per cent better I'll get even quicker."
Wales team
Dewi Griffiths, Swansea Harriers (coach Kevin Evans)

Josh Griffiths, Swansea Harriers

Kristian Jones, Swansea Harriers

Andrew Davies, Stockport (Steve Vernon)

Caryl Jones, Swansea Harriers

Jenny Nesbitt, Worcester AC (David Walker)

Rosie Edwards, Rotherham (Dennis Russell)

Clara Evans, Cardiff AAC

Reserve: Alaw Beynon-Thomas, Swansea Harriers (Kevin Evans)