Jake Wightman believes he is on the runway to gold as his confidence soars

By Kheredine Idessane
BBC Scotland
Last updated on .From the section Athletics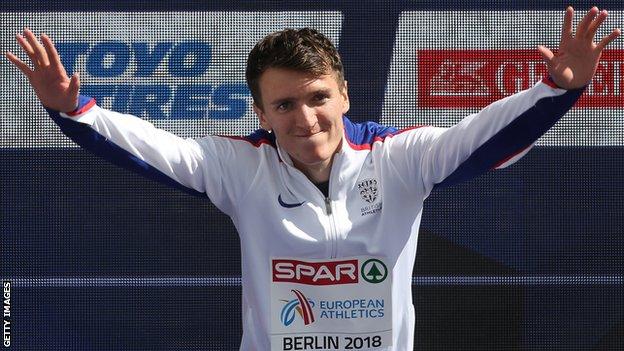 Jake Wightman believes that a home crowd could give him a fireman's lift to European indoor 1,500m gold.
Glasgow's Emirates Arena will host the European Indoor Athletics Championships in March.
And such is his commitment to training that he was given special dispensation for a special workout as Glasgow Airport was named as a partner.
"I'm going to the fire-fighter's gym, which is air-side, to go on the treadmill," he told BBC Scotland.
"I woke up at 4.45am to get a flight up from Heathrow as I live down in Teddington, so it was either that or run at 4am.
"It would either be that or on the runway or in the terminal. I think the terminal would have been the next best bet."
The 24-year-old believes that winning European outdoor bronze this summer has put him on the runway to spring gold.
"I'll definitely be trying to do that," he told BBC Scotland. "It's such a good opportunity in front of a home crowd.
"My confidence from this year is as high as it probably could be."
Wightman followed his third place at this year's Commonwealth Games in Gold Coast by matching that at the European Championships in Berlin in what proved to be his breakthrough year.
For 2019, the main focus for elite athletes will be the World Championships in Doha.
"If I can have a good European indoors, and run as well as I hope to here in Glasgow, then there's no reason why I won't be looking to try and come back with a medal from Doha," Wightman said.
"I think that home crowd support is going to be what we need to push us over the edge into bringing back medals we maybe weren't considered for, which is the case for all the Scottish athletes.
"I'm looking forward to it and the atmosphere of indoors is so intense and so electric. The crowd are definitely going to have an intimate experience, which hopefully they thrive off and we thrive off, so it's even more of an incentive to come out and run well."