Russia doping scandal: IAAF upholds ban on Russian athletes until further notice
Last updated on .From the section Athletics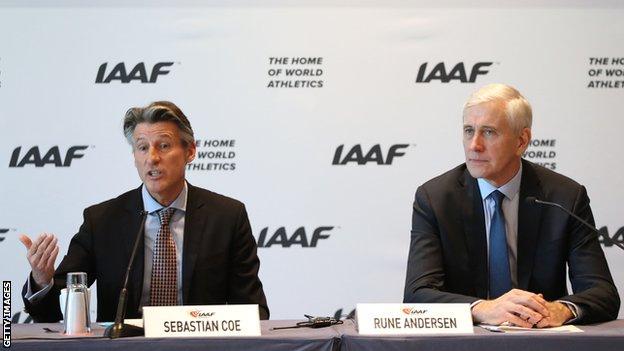 Russian athletes will remain banned from international competitions until further notice, says athletics' governing body.
The ban will remain in place until samples and data from Moscow's former anti-doping laboratory are made available.
Russia must also pay all costs incurred by the work of the IAAF's taskforce.
It is the 10th time the IAAF has turned down Russia's appeal for reinstatement, having requested the same assurances when it upheld the ban in December.
The decision puts the IAAF at odds with other sporting bodies such as the World Anti-Doping Agency (Wada) and the International Olympic Committee (IOC), who have revoked their own suspensions of Russia.
"There are two outstanding issues," said Rune Andersen, head of the IAAF's doping task force. "These need to be resolved."
How the Russian doping scandal unfolded
December 2014:

As many as 99% of Russian athletes are guilty of doping, a

German TV documentary alleges.

November 2015:

A Wada commission publishes an independent report alleging widespread corruption, amounting to

state-sponsored doping

in Russian track and field athletics. The Russian Anti-Doping Agency (Rusada) is declared non-compliant.

May 2016:

Former Moscow anti-doping laboratory boss

Grigory Rodchenkov,

who has turned whistleblower, says dozens of Russian athletes at the 2014 Winter Olympics in Sochi had cheated.

July 2016:

Russia operated a state-sponsored doping programme for four years across the "vast majority" of summer and winter Olympic sports, says a report from

Professor Richard McLaren.

August 2016:

International Olympic Committee decides against imposing a blanket ban on Russian athletes at the 2016 Olympics in Rio. Individual sporting federations rule instead, with

271 Russians competing.

December 2016:

Wada publishes the second part of the McLaren report, which says more than

1,000 Russian athletes

benefited from doping.

January 2017:

Rusada and Russian sport authorities are given a

list of criteria

to achieve before winning back recognition.

March 2017:

Wada says Russia's anti-doping reforms are

not happening quickly enough.

February 2018:

Russia are banned from competing at 2018 Winter Olympics in South Korea by the IOC, but 169 athletes who prove they are clean allowed to

compete under a neutral flag.

May 2018

: Wada writes to Rusada offering

'compromise' solution.

September 2018:

News of the compromise,

revealed by the BBC,

prompts fury from athletes and doping bodies.

December 2018:

The IAAF

upholds Russia's suspension

into 2019, seeking assurances over sample data and compensation.

December 2018:

Wada team is

unable to access Moscow laboratory

and data.

January 2019:

Wada team gains access to Moscow laboratory and data.