Mo Farah would have been 'first one out' had he known Alberto Salazar faced ban
Last updated on .From the section Athletics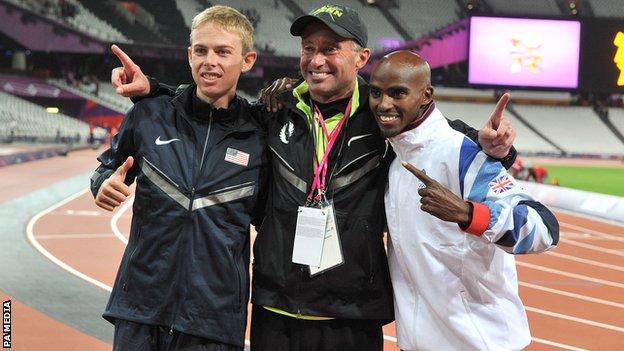 Mo Farah says he would have been "the first one out" had he known his former coach Alberto Salazar faced a ban from athletics for doping violations.
Salazar, 61, received a four-year ban following a US Anti-Doping Agency (Usada) investigation in November.
Farah told BBC Sport he does not feel his own legacy will be tainted.
"Had I known the news, what Salazar did, it's taken four years, had I known that sooner I would have been the first one out," Farah, 36, said.
"That's the bit that's kind of annoying, I wish I'd known quicker.
"I haven't been part of Salazar for the last two years and I believe me and my coach Gary Lough are going to go out there and do the best that we can."
Farah left the Nike Oregon Project headed up by Salazar in 2017, the same year in which the coach was charged by Usada.
But that was more than two years after the BBC Panorama programme revealed allegations of doping and unethical practices at the US training base in Oregon in 2015.
Usada spent four years investigating Salazar in all before handing out its ban in 2019, when Dr Jeffrey Brown, a Nike-paid endocrinologist who treated many of Salazar's athletes, was also been banned for four years.
Briton Farah, a four-time Olympic champion, has never failed a drugs test and has always strongly denied breaking any rules.
Both Salazar and Brown have lodged appeals with the Court of Arbitration for Sport.
Farah confirmed in November that he will return to track competition in 2020 to defend his Olympic 10,000m title at the Tokyo Games.
The six-time world champion had switched his focus to road races since 2017 but says the decision to compete on the track again "wasn't difficult at all".
He added: "Two years went by and then you watch a championship and see people you competed against week in week out. I felt like I was there as I was getting involved watching the races and from that point I was like 'I want to get back on the track'.
"I want to go out there, see what I can do for my country and win medals."
Analysis
BBC sports editor Dan Roan
Speaking to me and other reporters in Chicago in October, Farah seemed reluctant to criticise Salazar in his first public comments following his former coach's ban, choosing instead to blame the media for the scrutiny he was under.
These latest comments certainly appear to put more distance between him and Salazar, but it is unlikely to end questions over his judgement when deciding to stay with him for more than two years after Panorama's allegations were broadcast. Furthermore, in March 2017, a leaked interim report revealed that Usada believed Salazar "almost certainly" broke anti-doping rules, and risked the health of his athletes by issuing potentially harmful prescription medicines to boost performance, despite there being no obvious medical need. A further seven months passed before Farah eventually split from his coach.
Meanwhile, a UK Athletics independent review is currently looking into why a panel cleared Farah to continue working at the Nike Oregon Project in 2015.