Neil Black: Former UK Athletics performance director dies aged 60
Last updated on .From the section Athletics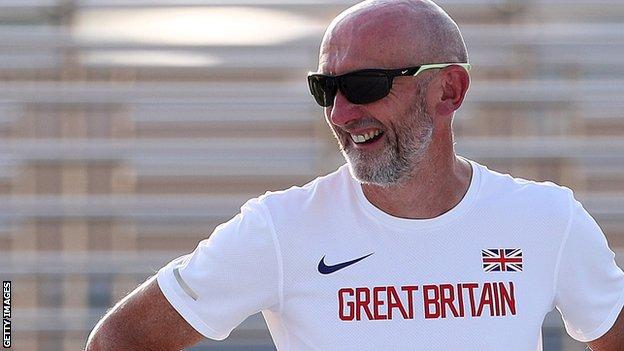 Neil Black, the former performance director of UK Athletics, has died aged 60, the organisation has confirmed.
Black, who worked closely with Mo Farah throughout his career, became performance director in September 2012.
He left his position in 2019 after coach Alberto Salazar was banned for four years for doping violations.
British four-time Olympic champion Farah paid tribute on Twitter, saying: "I have lost a good friend. Known him since I was 14 years old."
Farah added: "Neil supported me all the way in my career since I was kid. My heart is broken. I wouldn't be where I am today without Neil Black. No-one knew me like he did. We lost a great man."
A UK Athletics statement released on Tuesday said Black died at the weekend; the organisation said it was "shocked and saddened" at the news.
"Neil loved the sport of athletics and dedicated his life to supporting athletes - as a world-class physiotherapist, as head of sport science, and then in recent years as performance director for British Athletics," the statement continued.
Ed Warner, former UK Athletics chairman, described Black's death as "an immense loss to British high performance sport and to athletics in particular".
Warner added: "It was a great privilege to work with him, and to share the highs and lows of British teams through the cycles of major competitions. I'll particularly treasure our celebratory clinch in the mixed zone at the Olympic Stadium after the last session of the London 2017 World Championships.
"Neil bore the barbs of the critics that are an inevitable part of the job of any leader in elite performance sport with a grace and sense of humour that were truly a mark of the man.
"He wanted to lead the British teams into Tokyo. He won't now be able to cheer their successes there.
"But I am certain there are British athletes who will win medals in Olympics and championships to come who will look back with enormous gratitude at the role Neil played in preparing them for their success. He will be greatly missed."
Black was a physiotherapist with UK Athletics before moving up through the organisation's ranks.
He worked with Farah as the athlete won 5,000m and 10,000m gold at the London 2012 and Rio 2016 Olympics.
Black made the decision to step down as performance director in October 2019 after the banning of Salazar, who coached Farah from 2011 to 2017, and who was appointed as a consultant by UK Athletics in 2013.
UK Athletics had conducted a review in 2015 and said there was "no concern" about Salazar's link with Farah.
In 2015, following a BBC Panorama programme, the United States Anti-Doping Agency (Usada) began an investigation into how Salazar ran the Nike Oregon Project.
Salazar has always denied that the Nike Oregon Project permitted doping, saying he was "shocked" by Usada's findings, and he is appealing against the ban.
UK Athletics said that Black continued to work as an adviser to several athletes following his resignation.
'You'll be missed' - tributes to Black
World champion Dina Asher-Smith said on social media: "Incredibly sad and shocking news. I really can't believe it. He was a genuinely lovely, caring and kind-hearted man whose sense of humour and positivity would light up a room. Rest in peace Neil; you'll be dearly missed by all and my thoughts are with your family at this time."
Former heptathlon bronze medallist Kelly Sotherton tweeted: "He came everywhere with me and made sure I was held together physically and mentally. So many things I want to say... I'll miss you forever Neil Black."
Chris Tomlinson, the former long jumper, also paid tribute on social media: "Such sad news to hear of the passing of Neil Black. He was both my physio and team manager for many years. RIP."
Five-time Paralympic champion Hannah Cockroft wrote: "Such a great guy, always made time to come chat to me and see how I was getting on when he passed me, and always took a true interest in my training and in my sport. RIP Neil, you'll be missed."
Pole vaulter Holly Bradshaw said: "This news is so sad. Neil was such a special and incredible person who did so much for myself and athletics in the UK. Tremendous leader, sensational personality and just a genuinely nice guy. Neil you will be missed - rest in peace."
Paralympic champion Jo Butterfield said: "What a shock to wake up to this news this morning. Thoughts are with his loved ones right now. One of the most genuine caring men… always made time for everyone."
High jumper Morgan Lake added her tribute: "Such terribly sad news. Neil was always so supportive and knew how to bring a team of athletes together and make us feel at ease, especially at major championships. Rest in Peace, my thoughts are with his loved ones."
Paralympic champion Aled Sion Davies said: "Horrendous news, great man, full of passion…life really is too short."