NI to host London 2012 badminton qualifier
Last updated on .From the section Badminton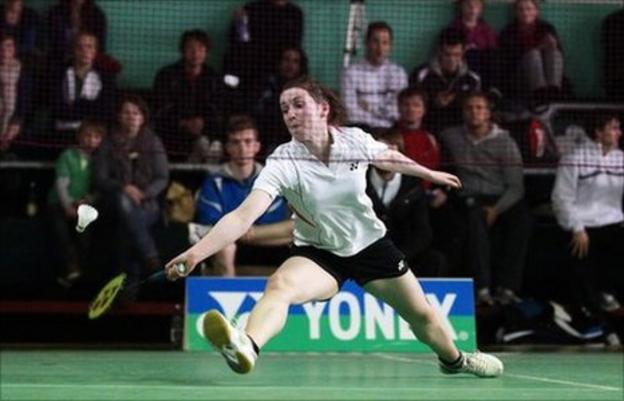 A badminton qualifying competition for the London Olympics will be held in Lisburn in December.
The Irish International Championships will double as a qualifier for the 2012 Games with over 200 competitors from over 30 countries expected to be in action at Lisburn Racquets Club.
A boccia qualifier for the London Paralympics will take place at Jordanstown in August.
The badminton qualifier is scheduled to take place from 8-11 December.
"Signficant work has been undertaken to bring this important pre-qualifying tournament to Lisburn," said Northern Ireland Sports Minister Caral Ni Chuilin.
Last week, the BBC revealed that none of the nations competing in the 2012 Olympics had chosen Northern Ireland as a base for a training camp.
More than 80 Olympic federations have committed to do their pre-games training at centres across Britain.
However, the Department of Culture Arts and Leisure said it was hopeful some countries would come and the Sports Minister repeated this optimism on Tuesday.
"I am confident that other Olympic approved facilities here in the North of Ireland will have the honour of hosting similar pre-qualifying and training events over the coming months," added the minister.
Sport NI chairman Dominic Walsh said that "extensive work" to attract teams to Northern Ireland for training camps or qualifying events was continuing.
"Sport Northern Ireland has worked in conjunction with many governing bodies of sport, locals councils and sporting venues during the last two years," added Mr Walsh.
"Despite many challenges and hurdles, these collective efforts are starting to bear fruit and the considerable groundwork has paved the way for pre-Olympic qualifying events such as this International Badminton Championship."
The Irish Championships will see players earning ranking points towards qualifying for London.
Top Irish players and Olympic hopefuls Chloe Magee, Sam Magee, Scott Evans and Tony Stephenson will be among those in action in Lisburn.
Donegal woman Chloe Magee won both the women's singles and mixed doubles with brother Sam at last week's Lithuanian International.
Evans was beaten in the men's singles final in the Baltic state and also suffered defeat in the men's doubles decider alongside Stephenson.