Britons Bankier & Adcock reach World Championship semis
By Jessica Creighton
Olympic sports reporter
Last updated on .From the section Badminton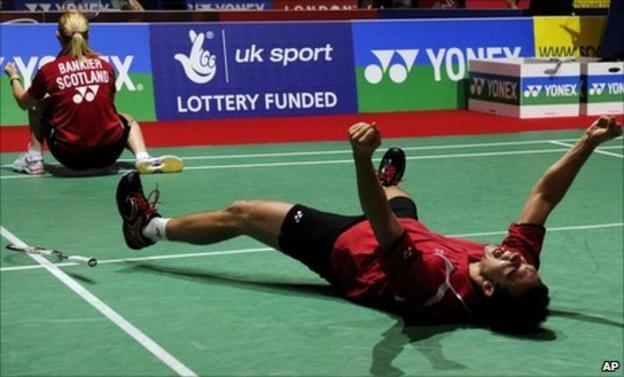 British pair Imogen Bankier and Chris Adcock thrilled the Wembley crowd as they reached the semi-finals of the World Championships.
In an impressive display they defeated China's fourth seeds, Tao Jiaming and Qing Tian, 21-16, 21-18.
Bankier and Adcock won the first set convincingly and remained in the driving seat as they took the second.
"We knew the Chinese had a very good attack so we had to up ours. We just can't believe it," said Bankier.
"Chris was smashing well, which made my job easier at the net. We knew we could do well but never expected these performances."
The duo had already defeated Japan's 15th seeds and Thailand's eighth seeds en route to this quarter-final clash and they showed no signs of letting up as they outplayed Tao and Qing.
It has been a busy week for Adcock, who also entered the men's doubles with Andy Ellis.
In his sixth match in as many days, Adcock showed no signs of fatigue with an energetic performance that put the Chinese pair on the back foot early on.
"We had a very good start," he said. "We had to be patient and make them play our game."
The Leicester-born 22-year-old displayed attacking aggression from deep in the court and with Glaswegian Bankier, 23, capitalising on any half-chances at the net, the couple took the first set.
The second set continued in a similar vein as Bankier and Adcock opened up a 5-0 lead, much to the delight of the vocal Wembley crowd.
Tao and Qing threatened to mount a comeback when they pulled the score back to 14-11 midway through the second, but the Britons held their nerve against the world number three pairing to clinch victory.
The win guarantees them at least a bronze medal in what has been their most successful major championship to date.
However, a silver medal will be within their grasp when they take on Indonesian second seeds Tantowi Ahmad and Liliyana Natsir on Saturday.
Bankier and Adcock are the last remaining British players in the tournament following Nathan Robertson and Jenny Wallwork's surprise exit on Tuesday.