Badminton World Championships: Adcock and Bankier reach final
Last updated on .From the section Badminton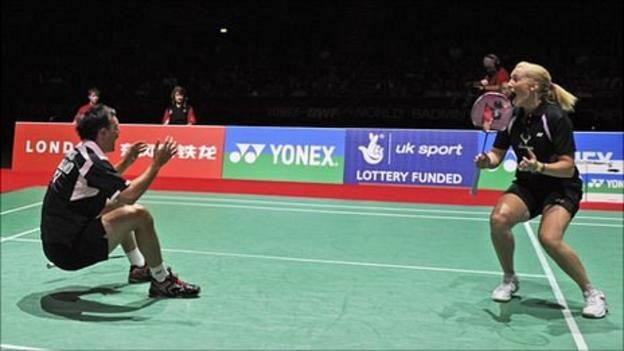 British pair Chris Adcock and Imogen Bankier upset the odds again to reach the mixed doubles final at the World Badminton Championships at Wembley.
The Anglo-Scottish duo beat second seeds Tantowi Ahmad and Liliyana Natsir 21-16 21-19 to delight the home crowd.
The pair have beaten seeds four days in a row and will play China's top seeds Nan Zhang and Yunlei Zhao on Sunday.
"A World Championship final in your own country - it is something you live for and you remember," said Adcock.
The success of Adcock and Bankier, who are ranked 20 in the world, has come as a surprise and although they still need to qualify for next year's Olympic tournament, the ranking points they will now accrue will put them well on course.
They started superbly, taking the first four points of the match with some emphatic play but they misjudged a few Indonesian shots to allow their opponents to claw back the deficit and then edge ahead towards the end of the first game.
With Glaswegian Bankier impressive at the net, the home hopefuls hit back and took the opener with a run of five successive points and carried that momentum into the second game, again taking the opening four points and forcing their opponents into making errors.
They quickly opened up a 9-3 lead and although Ahmad and Natsir got back to within one point four times, they did not let their advantage slip and won on their second match point, crashing to the ground with emotion after victory was confirmed by an Indonesian mistake.
Adcock added: "I'm trying to get my head around this win but I'm playing with the best female player in the world, which makes my job easier.
"We had an amazing start in the second game, which was crucial. They are both skilful players but our game was about playing clever little middle shots and having patience.
"Apart from the Japanese pair, we have beaten everyone in straight games. But now we have the final. We played them last September and even got a match point against them.
"We know them but we have to do our homework. Still, we have every confidence. We have to calm down and prepare for Sunday."