Silver not enough to satisfy Imogen Bankier
By Stevie Miller
BBC Sport Nation
Last updated on .From the section Badminton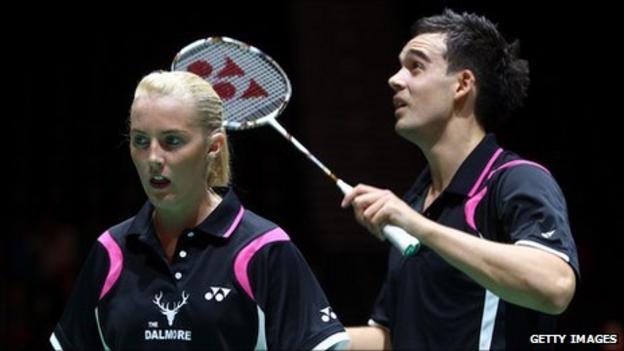 Imogen Bankier says she is disappointed despite bringing home a silver from the World Badminton Championships in London.
The Scot, who claimed the medal in the mixed doubles with partner Chris Adcock, told BBC Sport Nation that she hoped to improve further.
"To be honest, on Sunday I did feel quite disappointed," she said.
"I was disappointed with my own performance. I thought it was a shame to end on what was quite a poor performance from us.
"I think since then I've tried to reflect on the whole week. We had some terrific matches, we had some great wins, we actually played some amazing badminton - the best badminton we've played.
"I just think we peaked a little bit early. To be honest, the people that won were worthy world champions, they were a lot better than us on the day.
"So, of course, it was disappointing not to win gold, but I'll settle for silver this time."
The steely determination that took Bankier and Adcock to the Wembley final was also in evidence as she revealed she was aiming to improve even further to turn silver into gold.
"I remember having a discussion with my Mum the week before the Worlds and saying: 'I'm not the player I'd hoped I would be at this stage in my career' - and I still feel I've got a long way to go.
"But what I think we did prove is that we can challenge the top pairs in the world on our day.
"But I can see I've got weaknesses in my game and that's something we're going to have to go back and work on."
It was this dedication to badminton that saw 23-year-old Bankier give up a law degree to focus full time on her sport.
"I did start a law degree in 2006, but about six months after I started, the GB programme was set up, so I felt like I had to take that opportunity.
"But, since then, I've picked up an Open University degree, so I don't regret it and it's always there in the future if I want to go back to it."
However, despite harbouring ambitions of collecting a medal of a different colour next time, she revealed she's finding it hard to be parted from her prize: "It's been on more often than it's been off.
"I've tried to keep it on as much as possible. I reckon I've got a good month or two's wear out of it before someone tells me to take it off."
Bankier was backed by her family at Wembley, with her father, Celtic chairman-elect Ian Bankier, taking time out from football to cheer his daughter on.
And she is returning the favour as she goes to her first-ever football match to watch Celtic face St Johnstone this weekend.
"I wouldn't say I'm a massive football fan, but now there's a tie into my family and I think it's important to support whatever my dad does," said Bankier.
Her run to the final could also have another positive return for Bankier, as the rankings points accumulated will boost her and Adcock's bid for London 2012 qualification.
Only one mixed doubles pairing will be selected for Team GB and Bankier and Adcock face stiff competition from fellow Scot Robert Blair with Gabby White and Nathan Robertson and partner Jenny Wallwork.
However, with selection based on ranking points gained over a qualifying year, Bankier's Scotland team-mate, Susan Egelstaff, thinks Bankier and Adcock are now in pole position.
"It is a big boost for her, the mixed doubles is going to be a pretty tight fight," she said.
"This in no way guarantees her qualification, but it certainly helps them a lot. It's a whack of ranking points that'll push them up the rankings and hopefully they can build on this and qualify."
British women's number one Egelstaff was also hopeful that Bankier's success would have a positive effect on the sport in Scotland.
"It's a brilliant achievement and it would be great to think this could maybe encourage some more people into the sport," she said.
"You need a healthy sport and success breeds success, so hopefully this should encourage some of the younger team members and show that you can win medals, that with a bit of hard work and a bit of talent it can all come together.
"It's great to see what's possible and it's great to see a Scottish person doing that on the world stage and obviously it's fantastic for Imogen, I'm really pleased for her, she deserves it."