Imogen Bankier and Chris Adcock make China quarters
Last updated on .From the section Badminton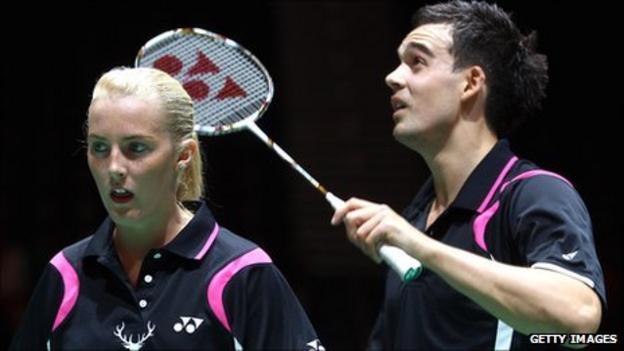 Imogen Bankier and Chris Adcock have reached the quarter-finals of the China Masters Super Series in Changzhou.
This is the duo's first competitive action since winning silver at last month's World Badminton Championships.
After beating Japan's Noriyasu Hirata and Miyuki Maeda in the first round, they defeated Chinese Taipei pair Hung Lin Chen and Wen Hsing Chen.
Bankier and Adcock now face Korea's Yeon Seong Yoo and Ye Na Jang with a place in the semi-finals up for grabs.
Another Anglo-Scottish pair, Edinburgh's Robert Blair and Gabby White, join them in the quarter-finals after victory over Korea's Ki Jung Kim and Kyung Eun Jung.
The Koreans earlier knocked out England's Nathan Robertson and Jenny Wallwork, who were the sixth seeds.
The three British pairings are locked in a three-way battle for Olympic qualification.
Unless two of the pairs are ranked in the top eight by the end of May, then only one of the three couples will qualify.
In the latest rankings Bankier and Adcock sit at 16 with Blair and White rising to 24; Robertson and Wallwork remain at 11.
Susan Egelstaff has received a boost in her tussle with England's Liz Cann to qualify for London 2012.
Glaswegian Egelstaff has risen two places to 30, with Cann sitting 42nd.