Chris Adcock & Imogen Bankier beat badminton mixed world champions
Last updated on .From the section Badminton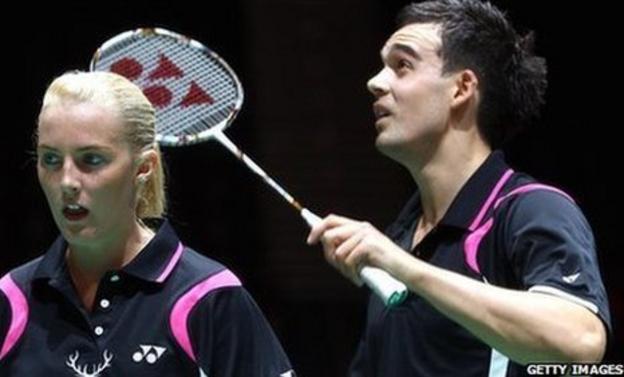 Britain's Chris Adcock and Imogen Bankier stunned badminton world champions Zhang Nan and Zhao Yunlei in the first round of the mixed doubles at the Korea Open.
Englishman Adcock and Scotland's Bankier, ranked 16th in the world, won 21-19 21-16.
They will face another Chinese duo, He Hanbin and Bao Yixin, in round two.
In the men's singles, England's Rajiv Ouseph beat world and Olympic champion Taufik Hidayat 21-19 21-15.
It was his first win in three meetings against the Indonesian world number 12.
Scotland's Susan Egelstaff returned to action today for the first time since late Novmber following a knee injury, and lost 21-5 21-6 to Commonwealth champion Saina Nehwal.
While Adcock and Bankier enjoyed a superb day, fellow British mixed pairs Nathan Robertson and Jenny Wallwork, and Robert Blair and Gabby White, lost in round one.
Unless two British pairs are in the top eight by the end of May, only the highest-ranked duo will qualify for the Olympics. Blair and White are currently 18th in the rankings, with Robertson and Wallwork in 23rd place.
"We beat the world no.1 and world champions in the mixed in 2 straight sets! Very happy!" Adcock wrote on Twitter.
"Felt good to get our own back from the world champs final in August against the Chinese."
Adcock and Bankier will meet Robertson and Wallwork for the first time in the opening round of the Malaysia Open later this month.