Chris Adcock and Imogen Bankier beaten by Chinese at Korea Open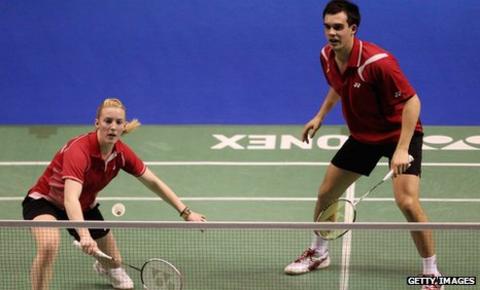 Chris Adcock and Imogen Bankier could not follow up their victory over China's world champions as they lost in round two of the Korea Open.
The Britons beat Zhang Nan and Zhao Yunlei in round one but fell 21-14 21-17 to Chinese number two pairing He Hanbin and Yixin Bao 24 hours later.
Adcock and Bankier play fellow Brits Nathan Robertson and Jenny Wallwork at next week's Malaysia Open.
"Disappointed after a great win yesterday," Bankier said on Twitter.
"But we are still playing well and we will hopefully continue our good form next week in Malaysia."
England's Rajiv Ouseph takes on eighth seed Simon Santoso in the men's singles later on Thursday.
Ouseph defeated Santoso's Indonesian team-mate Taufik Hidayat, the world and Olympic champion, on Wednesday.