Susan Egelstaff fires political warning over Glasgow 2014 Games

By Annie McGuire
BBC Sport Scotland
Last updated on .From the section Badminton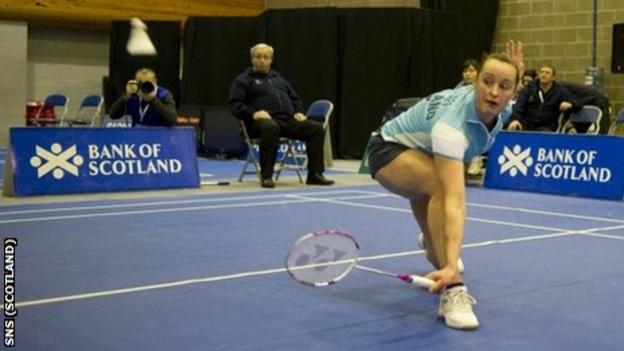 Scotland's Susan Egelstaff has urged caution over political point-scoring when Glasgow hosts the Commonwealth Games in 2014.
The showpiece event will take place just months before the proposed independence referendum.
And the British badminton number one says many athletes are wary of the Games being tainted by politics.
"I don't think it is ideal when politics and sport mix," she told BBC Sport Nation.
Egelstaff said it was "inevitable" that they would mix, but stressed it should be limited where possible.
"Sport is a totally separate thing and the Commonwealth Games is such a huge thing in its own right - and this is the biggest event that Scotland can hold," she added.
"We can't hold a World Cup or an Olympics so it would be a shame if it was over-shadowed by the politics of it.
"But it could also make it an even bigger event with the fact that it is such a huge year for Scotland so, hopefully, that's the way it goes."
First Minister Alex Salmond has stated his intention to hold a vote in autumn 2014, shortly after the Commonwealth Games visit Glasgow in July that year, and just weeks after Gleneagles hosts the Ryder Cup.
"I think the danger with politics becoming too involved in sport is that people become put off because they think it is being used for other purposes. Maybe I am being naïve but it would great to think it will just be a great event and leave a great legacy for the country.
"Politics won't be in my head at all, and that will be the same for every athlete. Everyone jumps on the bandwagon if sport is going well and politicians are no different."
Watch Sport Nation on BBC 2 Scotland at 1900 GMT on Tuesday 7 February 2012 for a special report on Sport and Politics in 2014.