Nathan Robertson hopes to qualify for London 2012 Olympics
Last updated on .From the section Badminton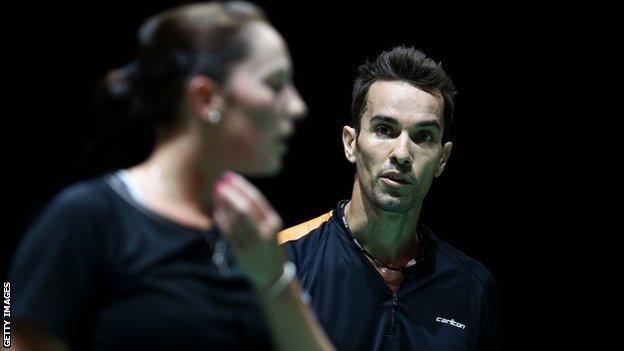 Britain's Nathan Robertson says he will not give up on his ambition of competing at the 2012 Olympics but admits he faces an uphill battle.
The 34-year-old, who won mixed doubles silver with Gail Emms in 2004, is in danger of missing the cut for London.
Only one British pair can compete and Robertson and his current partner Jenny Wallwork are trailing Chris Adcock and Imogen Bankier in the world rankings.
He said: "I am still determined. There is a chance to make a happy ending."
It appears the pair placed highest in the world rankings on 3 May will be given the Olympic spot and World Championship silver medallists Adcock and Bankier currently lead Robertson and Wallwork by four places.
"It has not gone at all the way we wanted it to and it hasn't been particularly enjoyable either, which is a bit of a shame because a year and a half ago we were top 10 in the world and looking good," said Robertson.
"It is pretty much a shoot-out between us and the other GB pair.
"There are about six or seven tournaments left and one or two rounds different in points. It is very close."
Although no Olympic qualification points were on offer, Robertson and Wallwork were beaten in the final of the English National Championships on Sunday by Adcock and Gabby White.
Adcock was playing with his girlfriend White because Bankier was playing in the Scottish equivalent in Perth.
However, following the 21-18 17-21 21-14 defeat, Robertson said: "The results of this weekend won't matter too much to us.
"The only thing that matters this year is where we are in the world come the end of April."