London 2012: Anthony Clark fears Nathan Robertson will miss Olympics
Last updated on .From the section Badminton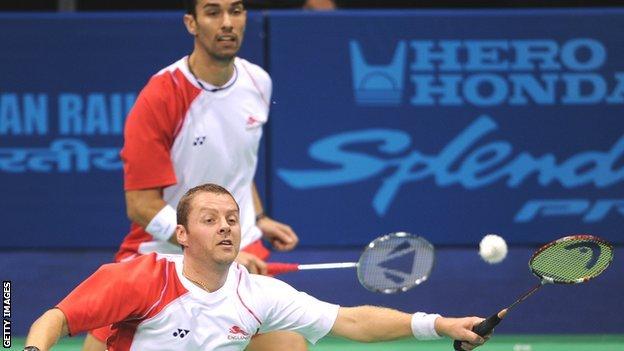 Anthony Clark says Nathan Robertson's decision to end their partnership may backfire as Robertson could miss the London Olympics.
The Nottinghamshire doubles pair split when Robertson opted to focus his 2012 thoughts on the mixed competition.
But Robertson and Jenny Wallwork trail Chris Adock and Imogen Bankier in the race to qualify for London.
"If it keeps going the way the rankings are, it's not going to pan out for him," said Clark, who retired in 2011.
The pair ranked highest in the world on 3 May are most likely to be selected for Great Britain at London 2012 and Adcock and Bankier currently have the edge at 17 with Robertson and Wallwork 19th in the list.
Both pairs reached the quarter-finals at the All England Badminton Championships in Birmingham.
And although much could come down to the draws in tournaments over the next month, Clark expects Adcock and Bankier to get the nod for what is expected to be one Olympic place.
He added: "Both pairs are good. They have both shown they can get to the quarter-final stages of major tournaments with what they have done last week.
"But for Chris and Imo, they are in the lead so if everything stays the way it is, they will go. It is as simple as that.
"They are in the driving seat - we can't look past that."
Clark admitted his friendship with Robertson had been tested following the latter's decision to concentrate on the mixed.
"I took the initiative of playing one event, as did Nathan," Clark said.
"I wanted to play men's doubles and he took the other decision to play mixed. It was very frustrating for me. Everybody in the world of badminton knew that Nathan and I should go on and play men's doubles and try to win a medal at the Olympics.
"It was kind of agreed way before the Commonwealth Games that is what would happen.
"But he obviously thought mixed doubles was an easier event for him, rather than taking on the world's best in men's doubles.
"I think most people were gobsmacked that happened, but there is nothing I can do about that.
"I don't hold it against him in a massive way. We are still friends but it has changed that a little bit. Inevitably, it was going to.
"It left me on a sticky wicket. Unfortunately for me it hasn't panned out and if it keeps going with the way the rankings are in the mixed, it is not going to pan out for him either."
The pair won silver at the Commonwealth Games in 2010, won six national titles together and had previously been ranked as high as fourth in the world.
After they went their own ways, Clark linked up with Chris Langridge
But after failing to impress in the Olympic qualification race while battling foot problems, he retired towards the end of last year.
Clark said: "To be asked to play with a younger player and then qualify for an Olympic Games, and then medal in an Olympic Games, was just too much for anybody.
"It left me very frustrated towards the end with my playing.
"I should have stopped once Nathan had made the decision to play mixed. I should have stopped playing then.
"But I never regret anything that I did in my career. I put every bit of effort I possibly could into the game. I had my time and it was time to bow out."