Chloe Magee secures singles place at London Olympics
Last updated on .From the section Badminton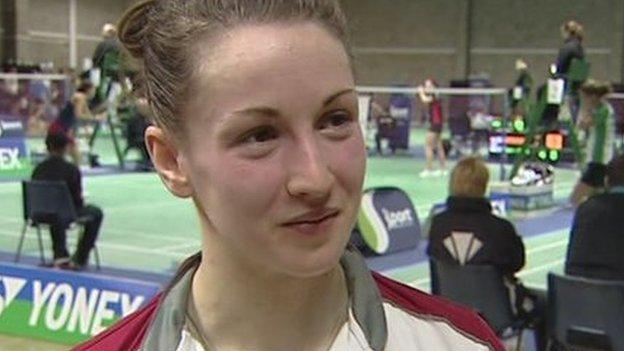 Donegal badminton player Chloe Magee has officially qualified for the ladies singles at the London Olympics.
The Raphoe woman, ranked 44 in the world, comfortably secured her place as the 26th out of the 44 players who will earn places in the singles.
Magee will also have hopes of competing in the mixed doubles in London alongside her brother Sam.
The Donegal duo are currently third reserves for the games with only 16 spots up for grabs.
The Magees are currently ranked as the 40th best mixed pair in the world.
Irish men's number one Scott Evans has a better chance of moving up from a reserve spot.
The Dubliner, world number 67, is currently first reserve for the men's singles and looks to have a strong chances of being promoted to the London field.
Badminton Ireland national coach Daniel Magee expressed contentment at the performances of the Irish trio.
"It is great we have three players in contention for Olympic selection," said the Irish coach.
"Chloe and Sam have done great in mixed this year but it's tough qualifying with just 16 pairs.
"Chloe had a great first half of the year and had really done enough in terms of qualification by the Irish Open in December.
"Scott's solid performances of late has ensured he has a great chance of selection on the second list in a few weeks."