Focused Imogen Bankier wants gold at London 2012

By Rhona McLeod
BBC Scotland
Last updated on .From the section Badminton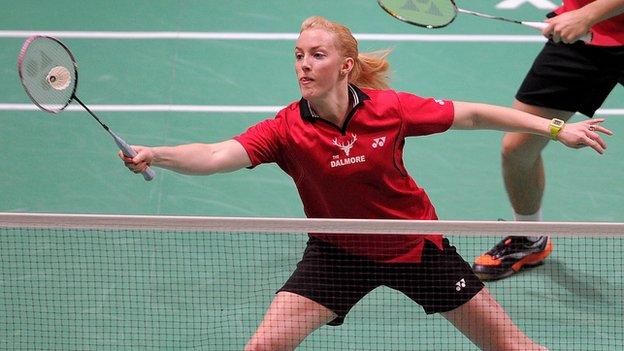 Scottish Olympic badminton player Imogen Bankier is delighted to be selected for Team GB, but admits the sacrifices have been immense in her quest to realise her potential in her sport.
As a mixed doubles player, Bankier partners the Englishman Chris Adcock and the pair train together in Milton Keynes at the home of Badminton England.
Bankier lives in residence in a shared room at the Centre, training Monday to Friday, and tries to return to her home in Glasgow's West End at weekends.
"It is a bubble - you are here all the time, 24 hours a day training, eating, breathing and sleeping badminton and you can't get away from it.
"Being from Glasgow it's hard because being here you don't have a life outside badminton."
Bankier admits that London 2012 qualification has brought added pressures to the living environment at their Milton Keynes base as three mixed doubles teams battled for one Olympic slot.
"It has been particularly difficult this year during Olympic qualifying.
"You are competing against two other pairs and then it was narrowed down to one and you are around them all the time - so it's awkward to say the least!
"It lasted for a year. A year of stressing and travelling and playing so many tournaments."
While Bankier has great sympathies with her rivals who failed in their bid to qualify, her own determination and single mindedness shine through.
"To have beaten people, to have pipped them to the post, is extremely satisfying.
"But that's just sport - there are winners and losers, that's the way it is.
"It's tough, but go hard or go home!"
Last summer, Adcock and Bankier made a huge impression amongst the big boys of world badminton.
The pair enjoyed a remarkable series of victories over players of higher ranking to reach the Final of the World Badminton Championships.
Their 21-15 21-7 defeat by top seeds Zhang Nan and Zhao Yunlei meant China took all five titles for the third time in total.
But the Anglo-Scottish pair were extremely proud of their silver medal in a week when they toppled the 15th, eighth, fourth and second seeds on the way to the final.
"It came at quite a key time, at the beginning of Olympic Qualifying," says Bankier. "It gave us belief and confidence.
"The event was at Wembley Arena and we had such support.
"We made it to the final and it was just one step too far unfortunately, but we have learned from it.
"Now, we are looking forward to London and thinking it is realistic that we can get a gold medal."
For Bankier, being called an Olympian brings a massive smile to her face.
"It means everything; it's a culmination of eight years hard work.
"I have been down here for five years and you sacrifice everything, so it is so satisfying that it has paid off."
Non-badminton fans in Scotland may be more familiar with another member of the Bankier family, as Imogen's father Ian is the chairman of Celtic Football Club.
So, is it a source of frustration to Bankier Jr, that the Scottish sports media is saturated by football?
"Obviously, I am from a minority sport and football gets so much media coverage.
"But that's what the Olympics is about - you hope people will be really inspired by other sports.
"My Dad is certainly supportive of what I do, so maybe he can make a difference and open people's eyes."
And Bankier admits that, as her Dad supports her sporting ambitions, she also supports his at Celtic.
"I have been lucky enough to be in the directors' box and I have met (Celtic manager) Neil Lennon.
"But, recently, I went with a couple of friends and we sat in the crowd and it was so much fun.
Having heard the roar of the Wembley crowd, Bankier and Adcock are now fully focused on giving their fans more to cheer in London this summer.
"We both said that we want an Olympic medal but now gold seems so much more realistic.
"We have beaten the world champions and the world number ones twice in the last two meetings.
"We are ranked ten in the world, but I think at the home games, with the support and the whole occasion, we can push through that last mile and get another great result!"
Sport Nation is on BBC Two Scotland on Tuesday 5 June at 1930 BST.