Nathan Robertson: GB's 'best ever' confirms retirement
Last updated on .From the section Olympics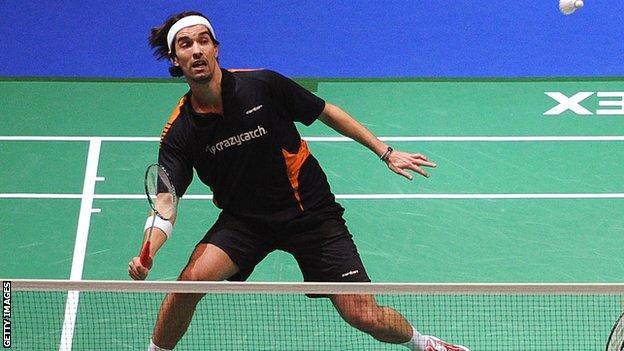 Olympic medallist Nathan Robertson has been hailed as Britain's greatest ever player after confirming his retirement.
The 35-year-old was runner-up with Gail Emms at the 2004 Olympic Games and made 114 England appearances, but missed out on a place at London 2012.
Emms, who also won the world mixed doubles with Robertson, said: "Without a doubt, Nathan is the best badminton player Great Britain has ever produced.
"It was an honour and a privilege to play mixed doubles with him."
Robertson, a former world number one in mixed doubles, won the English mixed doubles six times and the English doubles title nine times.
He also won European mixed doubles and Commonwealth gold medals with Emms, who retired in 2008.
With new partner Jenny Wallwork he reached 17th in the world rankings but they were beaten by compatriots Chris Adcock and Imogen Bankier in the European Championship quarter-finals in April, after which Robertson conceded that the British selectors would probably choose "the other pair".
"I've had a fantastic career in a sport that has given me so much," he said. "I've been lucky to have some great people to work with along the way especially partners including Julian Robertson, Simon Archer, Anthony Clark, Gail Emms and Jenny Wallwork, I have incredible respect for each one of them and they are all friends for life now."
Badminton England chief executive Adrian Christy said: "He has done so much to put our great sport in the spotlight, not just in England but around the world.
"I am already speaking with Nathan with regards to keeping him involved in the sport in the same way we have with Gail; they are priceless assets."