Imogen Bankier resigns from GB badminton programme
By Nick Hope
BBC Olympic sports reporter
Last updated on .From the section Badminton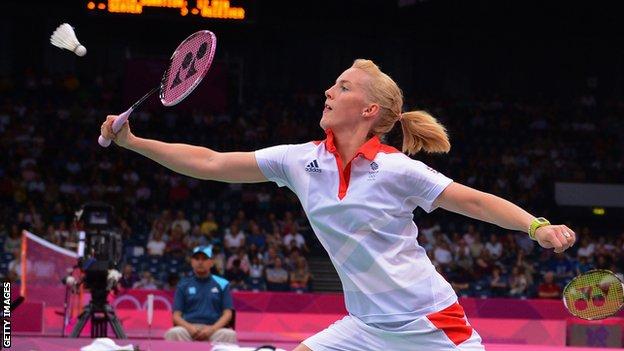 London Olympian Imogen Bankier has quit Great Britain's badminton programme to focus on the 2014 Commonwealth Games.
Scot Bankier, 24, won 2011 world championship silver alongside England's Chris Adcock, but the pair struggled at this summer's Olympics.
"The environment and the new programme in Milton Keynes just weren't working out for me," said Bankier.
"I don't believe that the Rio Plan and the way it is being implemented will help me to improve as a player."
Bankier, who reached the semi-finals of the French Open with Adcock last week, added: "Helping Scotland to achieve Commonwealth Games success is a major goal for me.
"I know that Badminton Scotland will do everything in their power to put the necessary support in place, not just for me, but for the whole team."
GB Badminton performance director Jens Grill said he is disappointed with Bankier's decision.
"The commitment to the World Class programme places significant pressures on a player and I fully respect the decision Imogen has made," he said.
"I would like to thank her for contribution to the GB programme and wish her every success in the next stage of her life.
"Now, quite understandably, we have to concentrate on those players within the GB programme and particularly in helping Chris achieve his goals."
Adcock, who is this week competing at the Bitburger Open in Saarbrucken with Andrew Ellis, said: "I'd like to thank Imogen for helping me reach the level I have in the last 18 months.
"It's been a great experience playing with her and we had some great times together, winning that world silver medal and climbing into the world's top 10.
"I fully appreciate that she wants to play a big part in Scotland's build-up to the Commonwealth Games and I would like to wish her well in her quest for success at Glasgow 2014.
"Now I plan to focus on my men's doubles partnership with Andy before reviewing my mixed doubles options in time for the start of the 2013 Superseries programme."
Badminton Scotland chief executive Anne Smillie believes their achievements will benefit the long-term future of the sport.
"She [Bankier] has already had a great partnership with England's Chris Adcock and that success has done so much to raise badminton's profile in Scotland," said Smillie.
"Now we look forward to her teaming up with Scotland players while also encouraging our emerging young talent to follow in her footsteps."