Chris Adcock and Gabby White renew mixed doubles partnership
Last updated on .From the section Badminton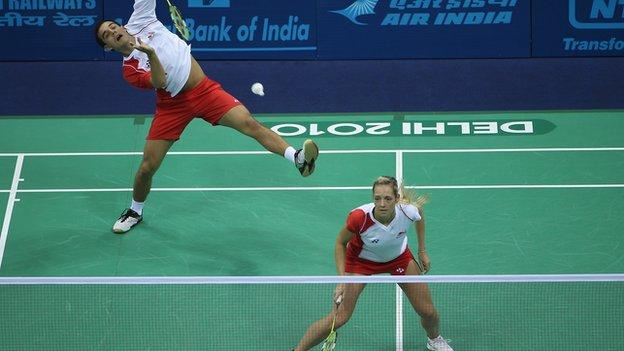 Chris Adcock is to renew his on-court partnership with fiancee Gabby White after Imogen Bankier's decision to quit Great Britain's badminton programme.
Adcock and White peaked in 2010 when they cracked the world's top 20 before coaches made a decision to dissolve the mixed doubles partnership.
But GB Badminton say the pair are to be reunited just months before they are set to marry in the autumn of 2013.
Scot Bankier, 24, quit to focus on the 2014 Commonwealth Games.
She won the 2011 world championship silver alongside England's Adcock, but the pair struggled at this summer's Olympics.
GB Badminton have also announced six other new mixed doubles pairings from January 2013.
They are Andrew Ellis and Jenny Wallwork, Chris Langridge and Heather Olver, Marcus Ellis and Alyssa Lim, Ben Stawski and Lauren Smith, Matthew Nottingham and Alex Langley, and Chris Coles and Jessica Fletcher.
"Through this fine tuning we believe the new line up gives us a solid platform on which to establish world class mixed doubles partnerships and continue to build for Rio," said GB Badminton performance director Jens Grill.
No Britons made it to the knockout stages of the Olympic tournament.