Adcock & White, partners on and off court, target Olympic gold
By Nick Hope
BBC Olympic sports reporter
Last updated on .From the section Badminton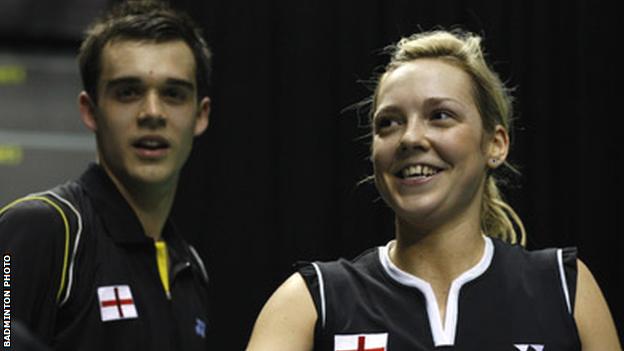 Not since Cyril and Dorothy Wright sailed their way to Olympic gold in 1920 has a married British couple, competing side-by-side, won an Olympic title.
But badminton's mixed-doubles duo Chris Adcock and Gabby White believe they can end that run at the 2016 Rio Games.
The pair, who met seven years ago whilst playing on the national badminton circuit as teenagers, will marry after this year's World Championships in late August.
With their job and relationship so intimately entwined Adcock and White are often asked whether spending so much time together could have a negative impact on their performances.
But they feel it will have quite the opposite effect and will be aiming to demonstrate the potential of their recently reformed partnership at the Yonex All England Open Championships in Birmingham this week.
"From the age of 16 when we moved down to Milton Keynes [the national badminton training centre] and started living in the lodge [shared accommodation] we got used to it," White told BBC Sport.
"It's nice to be open with a partner and not have to hold anything back - we do have psychologists' sessions though which I call 'couples therapy' - which the psychologist finds funny - but I think it's absolutely fine."
Adcock, who won European mixed team bronze last month, said: "Lots of people jump on the negative that we spend a lot of time together but that can also be a positive.
"We get to travel the world together. It's difficult for some couples when one goes away on a four or five week tour in Asia and they don't see each other for so long, but we don't have that problem."
Adcock and White enjoyed success playing together as youngsters claiming world junior silver and reaching a senior ranking high of 16 in the global standings before, in 2010, national coaches decided they would benefit from teaming up with more experienced players.
White joined Scotland's two-time Commonwealth medallist Robert Blair whilst Adcock was paired with another Scottish player, Imogen Bankier.
After the latter team yielded some impressive early results and claimed a surprise silver at the 2011 World Championships at Wembley, Adcock was portrayed by some sections of the media as having 'dumped' White to boost his own Olympic prospects.
"I think it made me look a little bit of a love-rat in some ways," reflected Adcock with a smile. "But no, it was the coaches' decision and it was more to push Gabby along with Robert, who was a very good mixed doubles player."
White failed to reach the London Games and although Adcock and Bankier held off the challenge of 2004 Olympic silver medallist Nathan Robertson and his partner Jenny Wallwork, they failed to reach the Olympic knock-out phase.
Bankier and Wallwork have subsequently quit the national set-up in Milton Keynes - leaving with a stinging attack on the programme's organisation and coaching structure.
Adcock feels he and White can bring some cheer to Badminton England heading towards next year's Commonwealth Games.
"We always knew after the Olympics that the pairs were going to have a shake around," said England 2010 Commonwealth team bronze medallist Adcock.
"With Imogen making the decision that she did it almost made it easier for us and the coaches to put Gabby and I together."
The decision has paid dividends almost immediately with victory over China's Olympic champions Nan Zhang and Yunlei Zhao in Germany last weekend.
"I think we could do very well," admits White.
"Our long-term aim together is to win a medal in Rio, but we think we have the potential to be the number one pair in the world and we definitely have our eye on a Commonwealth gold next year."
However, as dating former team-mates Robertson and Wallwork discovered, attaining long-term success can be tricky.
With few sports allowing men and women to compete together it is perhaps unsurprising that outside of figure skating there are not many examples of couples who have attained success alongside one another.
But there are cases of married athletes from the same sport having successful careers.
Czech Katy Kurkova met American and fellow Olympic rifle shooter Matt Emmons at the 2004 Athens Games and after tying-the-knot went on to win gold and silver in Beijing 2008.
Paralympians Dame Sarah Storey and her husband Barney won five cycling golds between them at last summer's Games, with swimming duo Sascha and Nyree Kindred each claiming a silver medal.
Two-time Olympic champion Victoria Pendleton experienced the negative side, claiming team-mates made her feel like she had "committed a crime" after starting a relationship with British cycling performance coach Scott Gardner - the pair are due to wed this summer.
Sports psychologist Rebecca Symes, who has worked with several leading British athletes, believes the key to success is finding a distraction away from badminton.
"Relationships are definitely one of the top concerns I find with athletes because it impacts so many areas of their lives," Symes told BBC Sport.
"The biggest challenge will be switching off their competition heads because as you find with couples who work together outside of sport - it is quite hard to stop those conversations even when you've walked off court. They need to find a way of talking about something else to get away from sport rather than let it consume them."
For Adcock and White that distraction currently comes in the form of wedding and honeymoon planning.
"We both decided it's Vegas then Hawaii - as long as it's hot we're happy," said White.