Badminton: Chris Adcock & Gabby White target gold at Worlds
Last updated on .From the section Badminton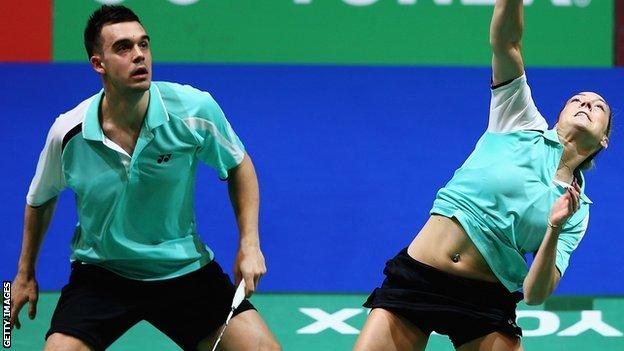 England's Chris Adcock is hopeful of going one better than 2011 and winning mixed doubles gold at next week's World Championships in Guangzhou, China.
Adcock teams up with compatriot Gabby White this time, after winning silver with Scotland's Imogen Bankier at Wembley two years ago.
Bankier will play with Bulgarian Petya Nedelcheva in the women's doubles.
"I don't feel any extra pressure because of winning a silver medal last time," said Adcock.
"Of course it would be great to get another medal. However, as I proved last time, anything can happen at a major championships and we will be taking it one game at a time.
"Hopefully by doing that we will get into a position to challenge."
Adcock and White, ranked 17th, have a bye in the first round, while English champions Chris Langridge and Heather Olver take on Sweden's Nico Ruponen and Amanda Hogstrom.
Both Adcock and White will play in two competitions, with Adock joining Andrew Ellis in the men's doubles and White playing alongside Lauren Smith in the women's doubles.
"I don't feel that there is any added pressure of playing both," said Adock.
"It's what I have always done through my whole career to date and I'm really looking forward to competing in both out in China."
Welsh duo Daniel Font and Oliver Gwilt will take on Russia's Sergey Lunev and Evgeny Dremin in round one.
In the singles, Britain's leading man Rajiv Ouseph of England plays Chong Wei Feng of Malaysia in the first round, while 20-year-old Toby Penty faces American Howard Shu.
English National champion Sarah Walker will play Kate Foo Kune of Mauritius, and Scotland's world number 36 Kirsty Gilmour will open against against Swiss player Nicole Schaller.