Badminton: Chris Adcock & Gabby White beaten at Worlds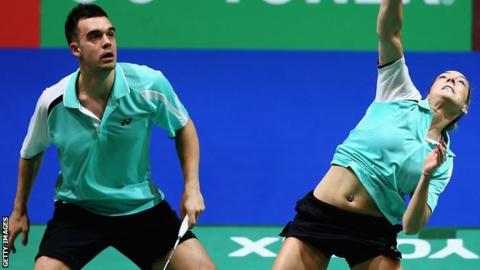 England's Chris Adcock and Gabby White lost in round two of the mixed doubles at the World Championships in China.
Adcock, who won silver with Scotland's Imogen Bankier in 2011, and White were eliminated in their opening match after receiving a first-round bye.
The 16th seeds went down 21-18 21-16 to Chinese Taipei's Chen Hung Ling and Cheng Wen Hsing in Guangzhou.
Adcock and Andrew Ellis beat Dutch pair Ruud Bosch and Koen Ridder 21-17 21-18 in round one of the men's doubles.
And they will face face Chinese ninth seeds Biao Chai and Zhang Nan in the second round.
Adcock was hoping to go one better than he managed in the mixed doubles at Wembley two years ago and he and White moved into a 7-5 lead in the first game.
But their opponents won the next five points to establish a three-point lead and held off a late challenge from the English pair to go in front.
And they led from the outset of game two, winning through in 37 minutes.
In the men's doubles, England's Chris Langridge and Peter Mills beat Hong Kong's Tsz Kit Chan and Lok Kei Lo21-12 21-15, while countryman Marcus Ellis and Scotland's Paul van Rietvelde defeated Norway's Jonas Christensen and Marius Myhre 21-15 21-8 in just 24 minutes.
Ellis and Van Rietvelde will now face 10th seeds Angga Pratama and Ryan Agung Saputraof Indonesia, while Langridge and Mills will meet fourth seeds Hiroyuki Endo and Kenichi Hayakawaof Japan.
In the women's singles, English National champion Sarah Walker overcame Kate Foo Kune of Mauritius 21-11 21-17, and will face fifth seed Ji Hyun Sung of South Korea in the second round.