Badminton: Lin Dan wins world title as Lee Chong Wei retires
Last updated on .From the section Badminton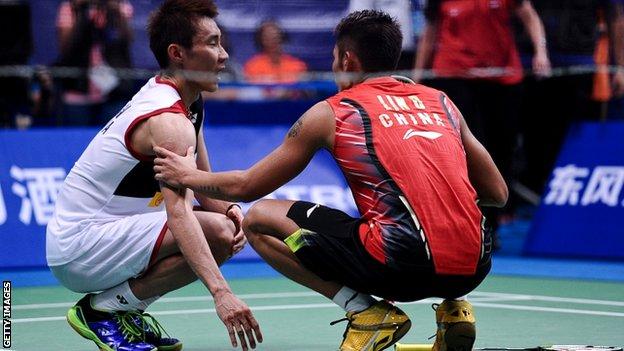 China's Lin Dan won his fifth badminton world title when Malaysia's world number one Lee Chong Wei retired hurt and was taken off on a stretcher.
Lin, 29, is widely regarded as the best player of all time and was given a wildcard into the event in Guangzhou, China, after taking a year off.
He was closing in on victory when Lee was struck by cramp, and Lin took the title 16-21 21-13 20-17.
In the women's final, Thai teenager Ratchanok Intanon upset Li Xuerui.
The 18-year-old became the first player from Thailand to win a world title as she beat China's top seed and Olympic champion 22-20 18-21 21-14.
"Being the champion has been my dream," said Ratchanok. "At the end of the match all the tough moments from all the years came into my mind and I thought, 'Finally, I got it.'"
Li insisted: "It wasn't being the top seed that affected my mindset - I think I was just too eager to win.
"We prepared thoroughly for the match, but it was hard to implement the plan. When I tried to execute my strategies, I would make errors.
"My opponent played very well and seemed very relaxed, which put a lot of pressure on me."
The men's final saw 30-year-old Lee miss out on a world title for the seventh time, against the man who beat him in the last two Olympic finals.
Lee needed treatment on court at 19-16 down in the third game but, after winning the next point, the Malaysian dropped to the floor in the middle of the following rally.
Lin went over to his opponent's side of the court to speak to him, but the umpire called an end to the contest and Lee left the arena on a stretcher.
"Both Chong Wei and I did a good job," said Lin. "It's a pity he could not last until the end.
"He got this cramp out there and it reminded me of my training - when you have that, you cannot move at all. From that moment we were not opponents any more.
"I really wanted to help and went over to ask if he was OK. He didn't want to give up."