Rajiv Ouseph and Kirsty Gilmour reach London Grand Prix semis
Last updated on .From the section Badminton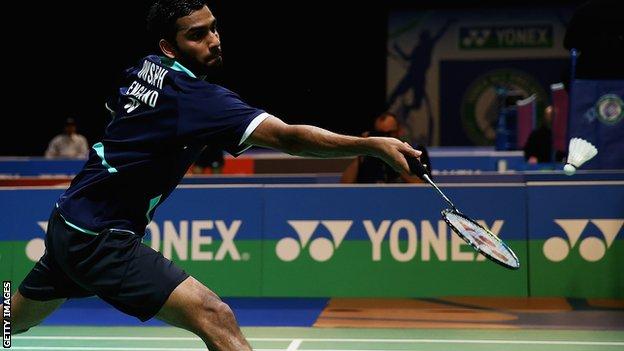 England's number one Rajiv Ouseph and Kirsty Gilmour are both into the singles semi-finals of the London Grand Prix.
Ouseph beat Malaysia's Zulfadli Zulkifli 21-14 21-13 in the men's last eight with China's Tian Houwei up next.
Scotland's Gilmour overcame Japan's Sayaka Sato 21-17 21-10 in the women's quarter-finals on Friday.
In the mixed doubles, Chris Langridge and Heather Olver made the last four with a 21-17 21-19 win over Germany's Max Schwenger and Carla Nelte.
Ouseph got through his match in 38 minutes and revealed he had planned to tire out Zulkifli and take control in the latter stages.
"I knew quite a lot about him. Obviously he knew about me as well," he said.
"At the beginning, I just tried to wear him out a bit. He came out quite quickly, as I expected him to, and it was just a case of wearing him down."
Gilmour, who will face Czech Republic's Kristina Gavnholt or China's Olympic semi-finalist Wang Xin in the last four, was happy to see her off-season training help her through.
"I'm playing really well. I'm really happy with how I'm playing. I'm being quite patient and all of the things I've been working on over the summer are starting to come together," she said.