Badminton: Scotland's women exit European Team Championships
Last updated on .From the section Badminton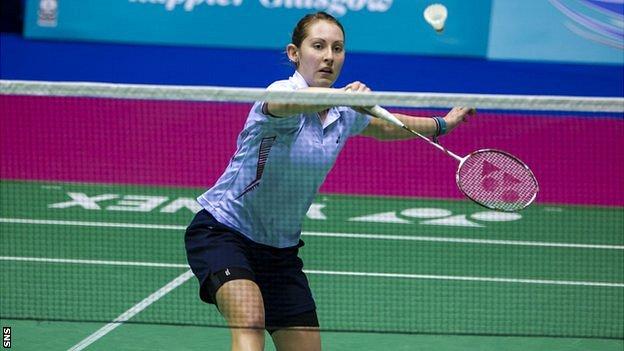 A defeat by Russia finally ended Scotland's women's hopes of reaching the knockout stages of the European Team Championships in Basel.
Kirsty Gilmour beat Natalia Perminova in the singles and paired with Imogen Bankier to win their doubles match.
But singles losses for Rebekka Findlay and Caitlin Pringle tied the match before Nina Vislova and Evgeniya Kosetskaya beat the duo in the doubles.
Scotland's men hope to progress as one of the two best runners-up.
They came back from a 2-0 deficit at the St Jakobshalle venue to beat Belgium 3-2 and finish second in the group behind England to whom they lost 4-1 on Tuesday.
England's men won all three of their matches, in doing so losing only seven out of 31 games. The third seeds beat Belgium 4-1 and, like Scotland, hammered Iceland 5-0.
Scotland, Netherlands, Ukraine or France, Russia and Slovenia are vying for the two runners-up spots to reach the quarter-finals.
Against Belgium, Glasgow's Kieran Merrilees was forced to retire against Yuhan Tan when leading 21-14 16-15, and Matthew Carder lost to Put Marjin 21-18 18-21 21-19.
Martin Campbell registered a win for the Scots against Nathan Vervaeke 21-12 21-17, and Robert Blair and Paul Van Rietvelde eased to a win over Nick Marcoen and Sam Van Den Broeck.
In the decider Campbell partnered Patrick MacHugh to a battling victory over Mattijs Dierickx and Freek Golinski 21-14 10-21 21-8.
In the women's event, Switzerland's win over Belgium moved them into second place in Group 4, behind Russia.
After Gilmour's win, former Scottish Open winner Ella Diehl put the Russians level when she defeated Findlay 21-12 21-7 before Pringle went down 21-13 21-5 against Anastasia Chervaykova.
Gilmour and Bankier, who earlier this week earned her 50th cap, put Scotland level with a 21-12 21-17 win against Ekanerina Bolotova and Olga Morozova.
But in the deciding contest Olympic bronze medallist and another Scottish Open star, Vislova, teamed up with Kosetskaya to defeat Findlay and Pringle 21-3 21-14.
Scotland finished third in the group, having beaten Belgium 3-2 and having lost to Switzerland by the same margin.
England were clear winners in Group 5, enjoying four wins on the trot. They enjoyed 5-0 wins over Estonia, Ukraine, Wales and Finland.