Badminton: England defeat Germany to reach Euro Team final
Last updated on .From the section Badminton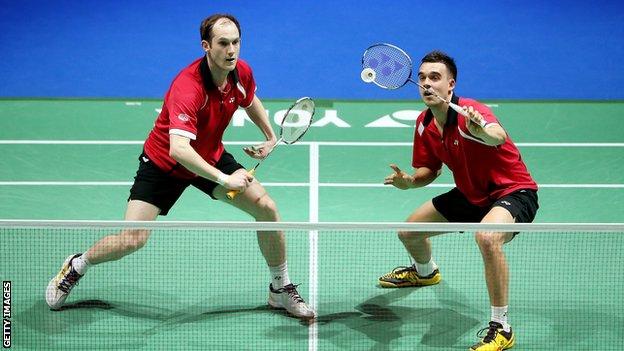 England's men beat Germany 3-1 to set up a meeting with Denmark in the final of the European Team Championships.
Rajiv Ouseph won his singles match while doubles pairs Chris Adcock and Andy Ellis, and Chris Langridge and Peter Mills, were both victorious.
It means England will collect silver for the first time in the competition after taking bronze two years ago.
Victory over the Danes on Sunday would also give England their first gold in a European team event since 1984.
Ouseph, who won his seventh successive English Championship a week ago, led the way for England in the semi-final with a 21-13 17-21 21-16 win over European champion Marc Zwiebler in 63 minutes.
England took command of the contest when Adcock and Ellis defeated Michael Fuchs and Johannes Schoettler 21-19 21-19 in the first doubles encounter.
Germany fought back in the second singles match as Dieter Domke secured a 21-18 21-17 win over Toby Penty.
The stage was then set for Langridge and Mills as they overcame Ingo Kindervater and Peter Kaesbauer 19-21 21-17 21-19 in a fluctuating 60-minute battle.
The 3-1 win meant Rhys Walker, who made his England debut earlier in the week, was not required to face Lukas Schmidt in the third men's singles.