First national badminton league to have new rules and format
Last updated on .From the section Badminton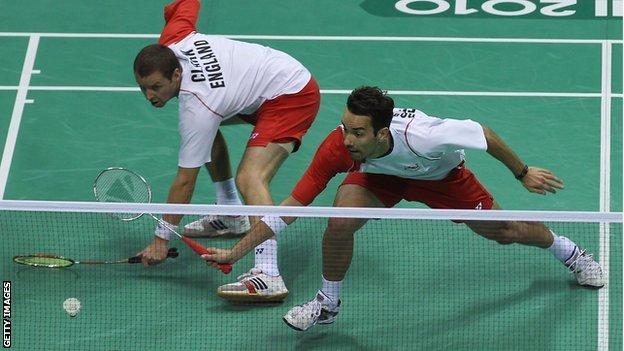 Britain's first national badminton league will begin in October with new rules and a new format.
The National Badminton League (NBL) will consist of six franchises, Badminton England has announced.
Matches will be played to an abbreviated score, including a tie-break set to make it more exciting.
"It's a game changer for our sport," said Britain's former world number one and Olympic silver medallist Nathan Robertson, who retired in 2012.
Although nominally a British league, the six successful franchises are all based in England. They are Birmingham Lions (University of Birmingham), Team Derby (University of Derby), Loughborough Sport (University of Loughborough), UoN Badminton (University of Nottingham), Surrey Smashers (University of Surrey) and Milton Keynes.
They will each purchase eight players at an auction to be held on 2 June.
Players available will include Olympians and Team England members, as well as other British, European and international talent.
The league begins on 6 October with monthly matches through to April 2015. This will be followed by a one-day knockout competition featuring the top four teams in June 2015.
A new format will be introduced to make matches shorter but Badminton England has still to finalise the details.
Robertson added: "Players are right behind the NBL. I just wish the NBL could have been round when I was playing.
"The new rules will enable games to get to critical points quicker, making it so much more exciting for the fans and the players. There will be no interruption to games, meaning non-stop action.
"It's fantastic news for teams, players and fans."
Badminton England chief executive Adrian Christy said: "It will not only showcase our current players but provide a real inspiration for younger players."
Among those who could feature in the NBL are England's husband-and-wife team Chris Adcock and Gabby White, who reached a career-high fifth in the world rankings when they won the Hong Kong Open last November and are among the favourites at this summer's Commonwealth Games in Glasgow.
The couple are second seeds at this month's European Championships in Kazan, Russia. Adcock is also seeded number two with partner Andy Ellis in the men's doubles.