Badminton: Blair and Bankier exit Australia Open at second round
Last updated on .From the section Badminton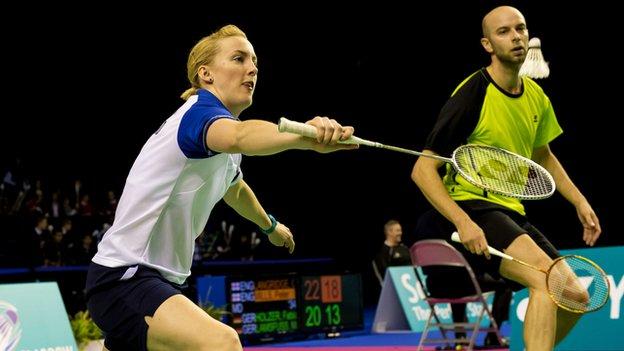 Robert Blair and Imogen Bankier have been knocked out in the second round of The Star Australian Open by the world number three pair Xu Chen and Ma Jin.
The Scots lost in three games in Sydney against the Chinese partners, having defeated Mohammad Lutfi Zaim and Soong Fie Cho of Malaysia on Wednesday.
Xu and Ma took the first game 21-14 but Blair and Bankier led all the way in the second to clinch it 21-10.
However, the Chinese surged ahead in the decider to win it 21-13.
Blair and Bankier lost in the first round of two other Super Series events in the past two weeks - the Yonex Japan Open and the BCA Indonesian Open.
The Scotland pair will now return to Glasgow to start their final preparations for the Commonwealth Games, where they can expect to be seeded in the top four of the mixed doubles.
They are currently ranked 12th in the world and third in the Commonwealth.
They will be doing intensive work with head coach Yvette Yun Luo and former Dutch number one Chris Bruil.