Glasgow 2014: St Helena finally arrive at Commonwealth Games
By Saj Chowdhury
BBC Sport in Glasgow
Last updated on .From the section Commonwealth Games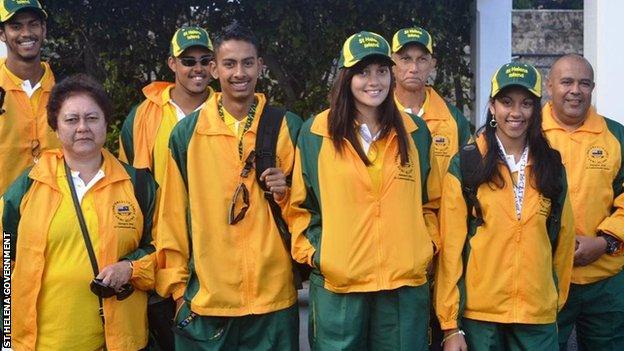 A Royal Mail ship, two flights, 8,500 miles and 10 days of travelling - the St Helena team's route to Glasgow 2014 has been nothing short of epic.
The party of eight, six athletes and two officials, set off on a five-day crossing to Cape Town on 11 July and stopped off for three days before arriving, via Amsterdam, on Monday.
"It has been all-out, non-stop travelling," said 22-year-old badminton player Lee Yon, who did short running bursts on the RMS St Helena to keep fit. "It took 10 days to get here."
St Helena at the Commonwealth Games

This is their sixth CWG - they have yet to win a medal

St Helena will be competing in the swimming, badminton and shooting
Yon's team manager Nick Stevens said: "I got him to do some shadow play, so he was doing his strokes without the racquet and the shuttle on the top deck, similar to shadow boxing.
"But the area to practise in was not even the size of a badminton court."
Since 1989, St Helena has relied on RMS St Helena, a cargo-passenger ship and one of the last remaining Royal Mail ships, for transportation of people and goods. However, from 2016 it will have its own airport.
"That will make it a lot easier for us to compete," added Yon.