National Badminton Centre to find £2m shortfall
Last updated on .From the section Badminton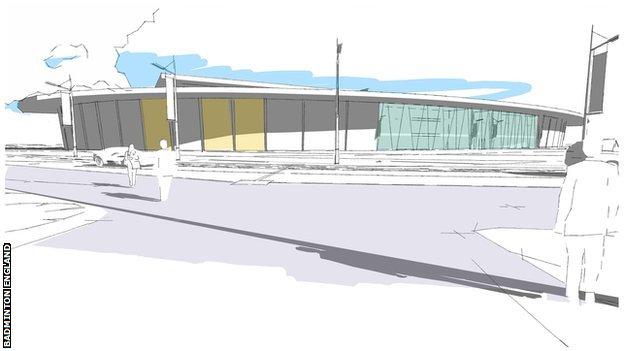 Badminton England bosses are confident that a £2m shortfall for a new national headquarters will be found.
The facility is home to England's top players, including Commonwealth Games champions Chris and Gabby Adcock.
"The work continues to cut that gap. We're really confident we can do that," Badminton England chief executive Adrian Christy told BBC Look East.
"It's a £20m facility and the majority of the funding will come from the sale of the current site.
"The remainder will come from a mix of our own resources and an application we will make to the National Lottery.
"It's about a £2m gap right now. But a few months ago it was a bit more than that."

The new centre will comprise of 17 courts, a 3,000-seat arena, fitness club and athlete accommodation, and was initially planned for a spring 2015 opening.
And, while doubts over funding first emerged in June, Christy believes the plan will merely be delayed, not derailed.
"Before the Rio Olympics is probably not going to be feasible," he said.
"If we can get into the latter part of 2016, the early part of 2017, I think we will have done incredibly well. This is about generating generations of medallists.
"Our ambition is to deliver gold medals. We've got a very talented group of young players. The new facility will absolutely give us an advantage."