Badminton: Gabby Adcock seeks national title record
Last updated on .From the section Badminton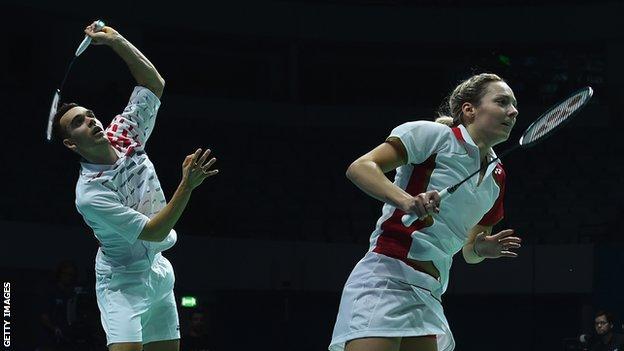 Gabby Adcock is aiming for Anthony Clark's record 12 English National Championship titles after winning her eighth with husband Chris.
The pair, ranked six in the world, beat Gary Fox and Lauren Smith 21-10 21-13 at the K2, Crawley, on Sunday, to win the mixed doubles title.
Elsewhere, teenager Sam Parsons won his first men's singles title while Nicola Cerfontyne is the women's champion.
"I want to go for the record of national titles," Gabby Adcock said.
"Next year could be difficult with the Olympics in mind but I hope to get 10 in the bag at some point."
Parsons, 19, beat Andrew Smith 21-14 21-16 while Cerfontyne defeated England number one Fontaine Chapman 24-22 21-19.
Heather Olver and Lauren Smith enjoyed a 21-11 21-11 women's doubles victory over Jennifer Moore and Viki Williams.
And England's number one men's pairing Chris Langridge and Marcus Ellis defeated Matthew Nottingham and Harley Towler 21-17 19-21 21-15 in the men's doubles.