Badminton: Team Derby win inaugural National League trophy
Last updated on .From the section Badminton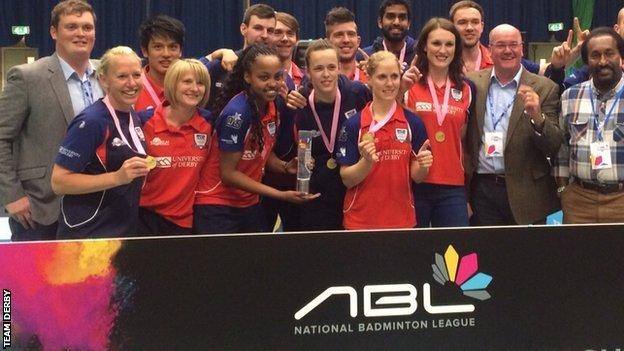 Rajiv Ouseph led Team Derby to a 3-2 win over Loughborough in the first National Badminton League Finals Day.
Karin Schnaase beat Linda Zetchiri in the final game to hand Derby the title.
Chris Coles and Andy Ellis won the men's doubles to put Team Derby ahead, but Loughborough Sport's Jenny Wallwork and Chloe Birch took the women's game.
England number one Ouseph beat Henri Hurskainen in the men's singles, but Marcus Ellis and Lauren Smith secured the mixed doubles for Loughborough.
Fast-paced and thrilling: badminton in short form
NBL games are played to a first to nine points rally scoring system. In each of the five events which are played to best-of-five games in a regular match-night fixture - the first four games are played to first to nine with no extended scoring or need for a clear winning margin.
Having overcome University of Nottingham Sport 3-2 in the semi-finals, Team Derby faced Loughborough, who beat pre-tournament favourites Surrey Smashers 5-0 in the other semi-final.
With the scores at 2-2, the UK's first badminton league ended in dramatic style.
The Championship was decided by the final event of the day, the women's singles, which saw Zetchiri take on Schnaase, the Bulgarian and German number one ranked women respectively, with Derby's Schnaase running out a 3-0 winner.
Team Derby 3-2 Loughborough Sport
MD Chris Coles & Andy Ellis 3-0 Peter Briggs & Greg Mairs
WD Lydia Powell & Lydia Powell 0-3 Chloe Birch & Jenny Wallwork
MS Rajiv Ouseph 3-2 Henri Hurskainen
XD Martin Campbell & Gail Emms 0-3 Marcus Ellis & Lauren Smith
WS Karin Schnaase 3-0 Linda Zetchiri