Badminton: Nathan Robertson previews National League Finals Day
By Owen Phillips
BBC Sport
Last updated on .From the section Badminton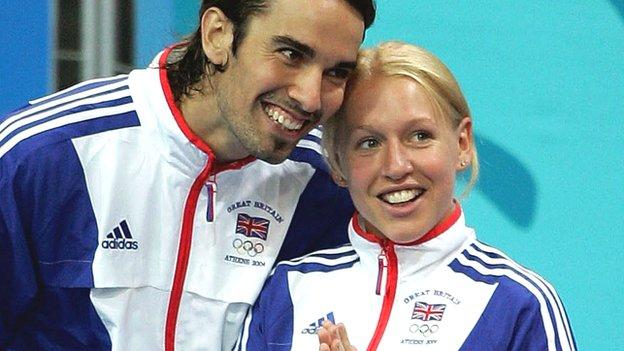 The first season of the National Badminton League culminates with Finals Day at the K2 in Crawley on Sunday when four teams battle it out for the title.
Surrey Smashers finished top of the six teams competing in the first-ever professional league and they face Loughborough Sport in the first semi-final at 1100 BST.
The other last-four tie sees Team Derby, including 2004 Olympic silver medallist Gail Emms, take on Nottingham Badminton, with the Championship final following at 1500 BST.
BBC Sport and former Olympic silver medallist Nathan Robertson takes a look at the sides hoping to become the inaugural NBL champions.
"The season has been a huge success," Robertson told BBC Sport. "It's had good crowds, with some sell-outs and it's been competitive and exciting.
"We've had the best players in the UK and lots of future stars and it will be even more exciting on Sunday when we get to the knockout stages and there is even more to play for."
Fast-paced and thrilling: badminton in short form
NBL games are played to a first to nine points rally scoring system. In each of the five events which are played to best-of-five games in a regular match-night fixture - the first four games are played to first to nine with no extended scoring or need for a clear winning margin.
Surrey Smashers
Surrey won four and lost just won of their five games, including a convincing 5-0 win over second-placed Derby in January.
Coach Hayley Adcock told BBC Surrey:
"It's been a fantastic season. It's been an absolutely brilliant first year. We're going in confident. Against Loughborough, it will be especially hard.
"There's a possibility that we're going in as favourites, in terms of (having) finished top of the league, but I think the teams are very capable of beating each other, so it's going to be an interesting finals weekend."
Stars
Captain Chris Langridge was a Commonwealth doubles silver and bronze medallist, from Glasgow 2014, but Gabby Adcock misses out as she and husband Chris - who represents Nottingham - will not return from the Indonesian Open in time.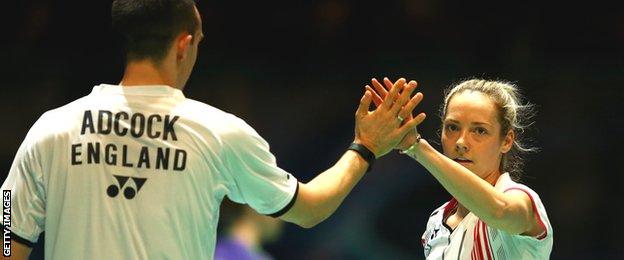 Expert view
"Having had a great regular season they will be favourites for many but looking at the teamsheets, most sides are missing one or two so I think it will be ever so tight. I don't see definite favourites."
Nathan Robertson
Team Derby
Derby lost their opening fixture to Birmingham, but their only other loss came at the hands of league winners Surrey.
Coach Donna Kellogg told BBC Radio Derby:
"It took a little bit of time to get used to the format, but I think the players have got used to it now and quite enjoy it.
"It's fantastic for us to be in the first ever finals weekend. We've come a long way from setting up the whole league in May 2014. We've had great crowds. It's exciting that we have a really good chance of winning on Sunday."
Stars
Rajiv Ouseph is England's number one men's singles player. He won seven national titles in a row from 2008-2014 and won a silver medal at the 2010 Commonwealth Games in Delhi. Olympic silver medallist Gail Emms will line up in the mixed doubles.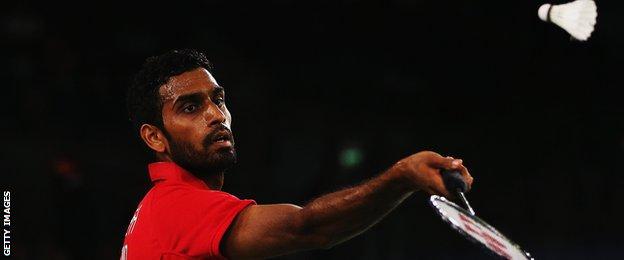 Expert view
"They had a slow start losing their first three, but they were all away and when they played at home at the Derby Velodrome they looked really strong, winning 5-0 and 4-1. They are the form team but have a couple of injuries to deal with for Donna Kellogg and Kate Robertshaw."
Nathan Robertson
Loughborough Sport
Loughborough were one of four teams to finish with a won two/lost three record but won more events than they lost and an impressive 4-1 success over Milton Keynes that earned their Finals berth on the final night showed they can play when the pressure is on.
Henri Hurskainen, who won all four of his NBL singles matches:
"This is the best league I've ever played in. It's very exciting and there's stuff going on all the time. It's very good for the sport.
"I didn't really think about it [100% record]. I just tried to win every game. The most important thing is that the team was winning."
Stars
Swede Henri Hurskainen took part in the 2012 Olympics and won a European Championship silver medal in 2012. England's Jenny Wallwork is a double Commonwealth Games medallist and five-time national title winner.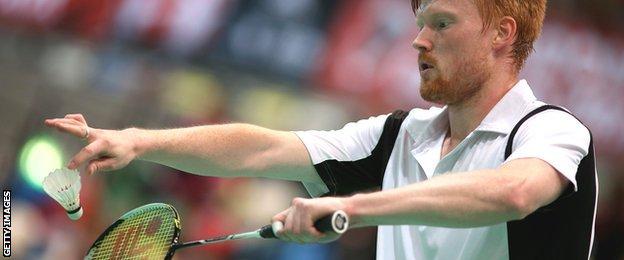 Expert view
"Loughborough could go into this with the most confidence, Their squad is probably the least affected by missing players. Harley Towler is injured but they had a good win to make the finals and could go well."
Nathan Robertson
Nottingham Badminton
Nottingham, like Derby finished with a won two/lost three record but they showed their quality with a crushing 4-1 victory over Surrey Smashers on Match-night 5 in March.
Coach Martyn Lewis:
"The NBL is something that the UK has needed for a hell of a long time and to actually be part of setting it all up has been great. A lot of people are talking about it.
"Sure there's some that are sceptical and there's always the old school way of thinking. But the NBL is attracting a new crowd, viewing figures have been great and it's brilliant to see some exciting badminton.
"We're only in this to win it, we're not here to make up the numbers and we can come away with the trophy."
Stars
Olga Konon, who represented Belarus at the 2008 Olympics and is now a German international, is in the side, as is Scottish doubles specialist Rob Blair. But Nottingham will have to do without captain Chris Adcock.
Expert view
"They were the only team to beat Surrey in the regular season but were well beaten by Derby in the final match and will be without Chris Adcock, which is a big blow."
Nathan Robertson