Gail Emms wants National Badminton League to be expanded
Last updated on .From the section Badminton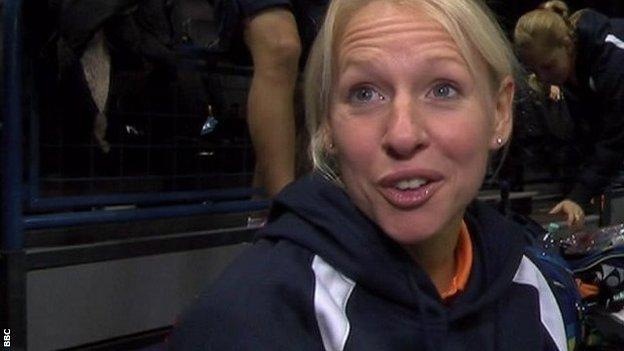 Gail Emms has said she hopes that the National Badminton League can be expanded in the future to build on the popularity of its debut season.
The 2004 Olympic silver medallist has come out of retirement and helped Team Derby become the first champions.
"I'd love more teams to be involved but apart from that overall it's been a success," said the 37-year-old.
"It's great we can showcase the top but let's have a lower league so they work up a bit like they do in football."
The inaugural league contained six teams and Emms, speaking to BBC Surrey, added: "I feel it's a bit like a university franchise at the moment which is fine to kick-start it - but I want somewhere for the other clubs to build up.
"I want to see established clubs that have been going for years in the league.
"It's great we have this but it feels like a bit of an exhibition so if we can have the top and a good support network underneath then I know we have done a good job."
Fast-paced and thrilling: badminton in short form
NBL games are played to a first to nine points rally-scoring system. In each of the five events which are played to best-of-five games in a regular match-night fixture, the first four games are played to first to nine with no extended scoring or need for a clear winning margin.
Emms admitted she could not quite believe how well the season had gone or that her Team Derby side had won the competition.
"It's very bizarre - I did not expect this at all," she said. "I've been champing to get this league off... to be part of it's just brilliant and we're champions as well - it's lovely.
"Our manager Donna Kellogg was my doubles partner and I'm so pleased for her, pleased for the players and pleased for the NBL - it's just done fantastic."