Adam Hall and Peter Mills beaten in Scottish Open final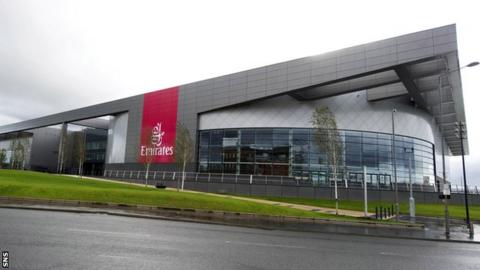 Scotland's Adam Hall and England's Peter Mills were beaten by top seeds Mathias Christiansen and David Daugaard in the Scottish Open Grand Prix doubles final.
Hall and Mills came within two points of victory at 19-19 in the second game, having won the first 21-15.
But the Danes snatched the second game 21-19 to force the decider.
And the 2014 champions took the third game 21-15 to claim victory after 68 minutes.
Hall and Mills have only played six tournaments together since teaming-up in September and the 28-year-old from Nottingham hailed the performance of his Scottish partner.
"He's doing really well, a bright star," said Mills. "He's only 20 and has reached the final of a Grand Prix tournament - not many players achieve that. He's done himself proud and done Scotland proud."
Hall admitted featuring in the Scottish Open showpiece had fulfilled a childhood dream.
"I'm really happy to have been here in the final just to take part," he said. "It's been a dream of mine, I've been coming here since I was seven, first as a spectator, then a line judge and now as a player.
"We only found out we were playing together during the Olympics so we have only had four months as a pair, so to get to a final this quick is really good for us, but I'm a bit disappointed.
"It's been one of the longest games that I have had."
Meanwhile, Malaysia began finals day chasing three titles and were assured their first Scottish Open women's doubles gong when Yin Loo Lim and Yap Cheng Wen defeated team-mates Amelia Alicia Anscelly and Mei Xing Teoh 21-17 21-13.
In the other final of the morning session, Malaysian hopes rested with 15th seed Joo Ven Soong, who was up against one of three Danish title contenders in second seed Anders Antonsen.
Antonsen prevailed 22-20 21-14 to take the title back to Denmark following last year's win by team-mate Hans-Kristian Vittinghus.
Denmark also retained the women's singles title won last year by Lene Kjaersfeldt when third seed Mette Poulsen defeated Swiss number one Sabrina Jaquet 21-18 17-21 21-14.
Malaysia's unseeded mixed doubles pair Go Soon Huat and Shevon Jemie Lai were their third title contenders as they faced Indian top seeds Pranaav Jerry Chopra and Reddy N Sikki.
Goh and Lai came back from a game down to win 13-21 21-18 21-16 in 57 minutes to win Malaysia their second title and their first mixed doubles triumph in Scotland.