Scotland's Kirsty Gilmour loses out in European Championships women's final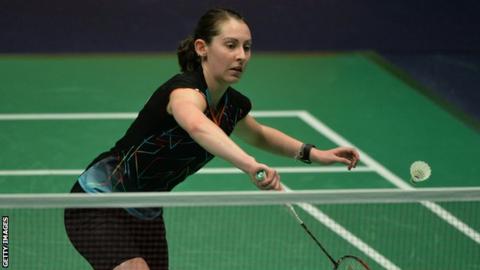 Scotland's Kirsty Gilmour had to settle for silver again as she lost in the women's singles final at badminton's European Championships for the second successive year.
The Scot was beaten 21-14 21-12 by Spain's Carolina Marin, who is the only woman from outside of Asia to have won the Olympic singles gold medal.
Marin has won three successive European singles titles.
"I had my plan but it's hard to stick to it through her power," Gilmour said.
"I am obviously disappointed about losing this match but still feel I have moved closer to her since last year's final.
"I see small pockets of possibilities in her game. The challenge is to have and keep the discipline and physical strength throughout a full match to take advantage from those possibilities."
Gilmour reached Sunday's final in Kolding, Denmark, by beating Switzerland's Sabrina Jaquet 22-20 21-10 in Saturday's semi-final.