Gabby and Chris Adcock win Britain's first Worlds medal since 2011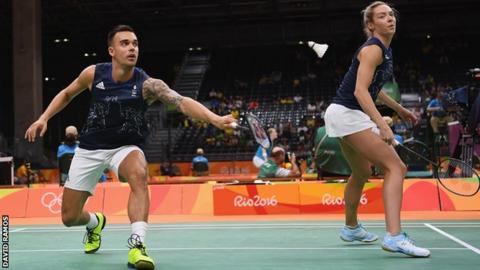 Gabby and Chris Adcock secured Great Britain's first medal at the Badminton World Championships for six years, by reaching the mixed-doubles semi-finals in Glasgow.
Their 16-21 21-13 21-16 win over Hong Kong's Tang Chun Man and Tse Ying Suet guaranteed them at least bronze.
"To win a medal together is just amazing," Chris Adcock told BBC Sport.
Scotland's Kirsty Gilmour lost to India's Saina Nehwal in the women's singles quarter-finals.
Chris Adcock was one half of the previous British mixed pair to win a world medal, when he won silver with Scotland's Imogen Bankier in 2011.
He and his current partner - wife Gabby - struggled to find their rhythm in the opening stages, but controlled the match from the second game.
The pair will now play either Chinese world number one pair Zheng Siwei and Chen Qingchen or Indonesian seventh seeds Praveeen Jordan and Debby Susanto in their quarter-final.
"The tough thing is we've won a medal but we still want to go further - we still hopefully have another two matches," Gabby Adcock told BBC Sport.
The last British winners of the title were English duo Gail Emms and Nathan Robertson back in 2006.
Gilmour was hoping to become Scotland's first world badminton medallist in a singles event and the 23-year-old gave everything in front of a partisan home crowd.
However, Nehwal's greater experience eventually told and the London 2012 Olympic bronze medallist progressed with a 21-19 18-21 21-15 win.
"Overall, disappointment tinged with some happiness," Gilmour told BBC Sport.
"I've come back from knee surgery in the last year and I can feel things building and I'm really happy with how things are looking."
Elsewhere China's two-time Olympic champion Lin Dan secured his seventh world medal by reaching the men's singles semi-finals.
He currently shares the record of five World Championship golds with South Korean Park Joo-bong and China's Zhao Yunlei.
The 33-year-old, who also won men's singles silver in 2005, will look to claim the record outright by winning his semi-final against world number one Son Wan Ho of South Korea on Saturday and returning for the final on Sunday.