Kirsty Gilmour nominated for European female player of the year award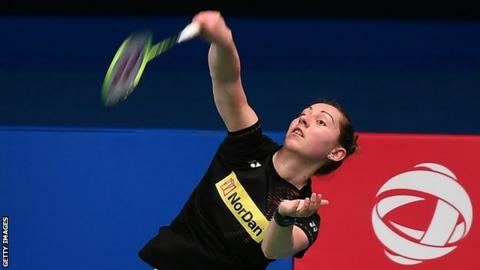 Scotland's Kirsty Gilmour has been nominated for Badminton Europe's 2017 female player of the year award.
The 24-year-old won the Scottish and Austrian Open titles last year.
She also took silver at the European Championships in Denmark and was a quarter-finalists at the World Championships in Glasgow.
"Giving such good performances in the World Championships and Scottish Open have to be highlights of my year," she said.
"Of course I had an ambitious idea of how I wanted the year to look and I have lived up to each of my targets which I'm delighted with.
"The Scottish support, not just at events but on a daily basis, gives me so much confidence and determination to set my goals for the coming year even higher. I can't wait to make things happen in 2018."
Spain's Carolina Marin, Gabby Adcock of England and the Danish women's doubles pair Christinna Pedersen and Kamilla Rytter Juhl are the other contenders, with the winner decided by a public vote followed by a panel debate.