Badminton: Kirsty Gilmour & Kieran Merrilees continue Scottish National domination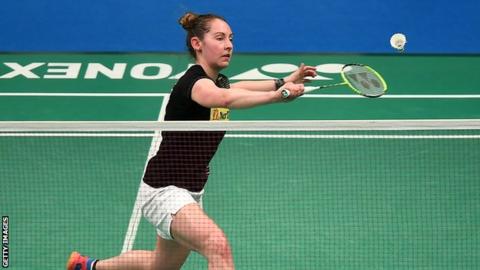 Kirsty Gilmour won her seventh Scottish National title and immediately set her sights on an eighth.
The Commonwealth Games and European silver medallist beat Julie MacPherson 21-12 21-16 in the women's final.
The men's title also went to the top seed, with Kieran Merrilees easing past Matthew Carder 21-12 21-11.
"It's a very nice feeling to have those seven titles under my belt," said Gilmour, 24, "Let's try and go for number eight."
She added: "It's not something I ever set out to do but it's become a bit of a habit to come to Perth and see how the young players are shaping up.
"I always really enjoy Perth, it's very serious but everyone is friends or family or very into the badminton and it's a really nice feeling to be playing."
Merrilees, 28, is just one behind Gilmour with six titles.
"The Nationals is always important to everyone and to win it again means a lot," he said.
"I've still got a good few years left in me so hopefully I can push on and win some more titles."
Alex Dunn and Adam Hall won the men's doubles, while MacPherson and Eleanor O'Donnell won the women's doubles, with Dunn and O'Donnell combining to triumph in the mixed competition.