Badminton: Kirsty Gilmour ready for 'crazy' World Championships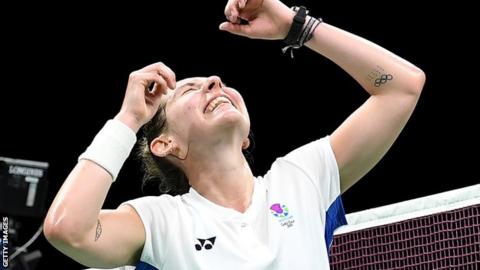 Kirsty Gilmour hopes to "fly under the radar" at badminton's World Championships in Nanjing after being in the spotlight in Glasgow last year.
With raucous home support, the 24-year-old Scot reached the last eight in 2017.
"I was fortunate that it was in Glasgow last year and every time I was on court I had 3,000 people in my corner," Gilmour told BBC Scotland.
"It won't be like that in China. That will help me just concentrate on me."
Ranked 22 in the world, Gilmour faces a tough opener against Gregoria Mariska Tunjung of Indonesia.
"It's not a higher standard than an Olympics but there are more opponents," she said of the tournament that runs from 30 July to 5 August. "There are more variables and crazy things can happen at a world champs."
Gilmour travels in high spirits after collecting a second Commonwealth Games medal in April and reaching the quarter-finals at this month's Indonesia Open.
"The first half of this year has been full-on," she said.
"I played in the PBL in India over Christmas and New Year, which was a bit of a different experience. I would jump at the chance to do that again.
"Then I went directly to Malaysia and Indonesia, then it was home and a bunch of different tournaments in Europe.
"Then it was the Gold Coast for the Commonwealth Games, which went pretty well with a bronze medal. It's hard to put into words how good those three weeks were.
"I'm not really a crier but I cried a lot when we had to leave."
Gilmour, a double European silver medallist, was eliminated at the quarter-final stage of this year's Euros in Spain but was heartened by reaching the same stage in Indonesia.
"That's the highest level in the world and that was a first for me," she said. "I had some really good performances over there.
"Mostly, I don't go with a specific goal, it's more just 'if I play well, I'll get to whatever stage'. It's more about getting the preparation right and getting a good performance on court. If I do that, then results take care of themselves.
"I was really happy with the way things linked up."