Scottish Open Badminton: Scot Kirsty Gilmour comes back to seal final spot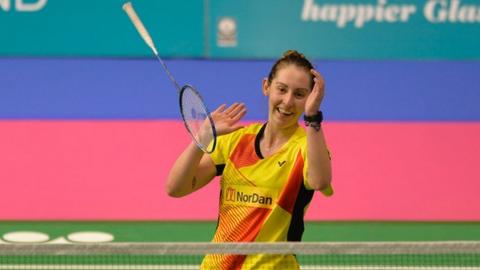 Home favourite Kirsty Gilmour beat top seed Cai Yanyan to reach the final of the Scottish Badminton Open.
Defending champion Gilmour lost the first game but fought back to beat the Chinese player 19-21, 21-18, 21-11.
The 25-year-old will have a chance to defend her title at the Emirates on Sunday when she faces second-seed Line Højmark Kjærsfeldt.
Gilmour admitted she let the contest slip away from her in the early stages of the match.
"I was making some poor decisions at the start of the second set and thankfully I didn't let it get any further away from me or else I don't think I would have been able to pull it back," she said.
"My record with Line must be 50/50, so we're going to have to see. I'm going to do some homework as she's on very much a hot streak right now and playing some really great badminton."
The Dane beat China's Chen Xiaoxin in another tight match, with an overall score of 52-50 across the three games.
There was an upset in the men's semi-final, with England's world number 34 Rajiv Ouseph losing to world number 515 Liu Haichao.
The unseeded Chinese player came back after losing the opening game 13-21 to win the following two games 21-8 and 21-19, and will face Sun Feixiang in the final.
Marcus Ellis and Lauren Smith beat Tom Wolfenden and Jenny Moore in the all-English mixed doubles semi-final, and will face Dutch duo Jacco Arrends and Selena Piek in the final.
Ellis is also in the men's doubles final with Chris Langridge after they beat fellow countrymen Ben Lane and Sean Vendy - they face Germans David Daugaard and Frederik Søgaard on Sunday.
France's Emilie Lefel and Anne Tran beat the Dutch opposition of Piek and Cheryl Seinen in the women's doubles semi-final, while Bulgaria's Gabriela Stoeva and Stefani Stoeva also booked their place in the final by beating France's Delphine Delrue and Lea Palermo.