Badminton: Kirsty Gilmour retains Scottish Open title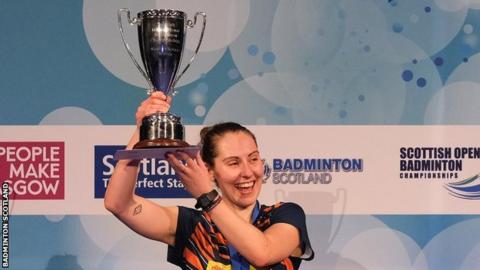 Kirsty Gilmour retained the Scottish Open after beating second seed Line Hojmark Kjaesfeldt at the Emirates Arena in Glasgow.
The 25-year-old took the first game 21-16, but despite leading the majority of the second game she lost 21-18.
Holding a 20-14 lead in the third, her Danish opponent threatened a dramatic comeback after battling through four Championship points.
However, Gilmour held her nerve to beat the 2015 champion 21-18.
"I'm feeling relieved, tired, happy and emotional," she told BBC Scotland."It was good last year to win and this year is incredible. It was just so different.
"Everything she was hitting was going within a couple of inches of the line. I generally couldn't do much about that. She was hitting some great shots.
"I was just trying to contain it and I knew if I made 90% right decisions, I didn't have to be perfect. I was capable of getting that last point. The last point is the hardest to get of the whole match."
Double triumph for England's Ellis
Meanwhile, the mixed doubles final was brought to an abrupt end when Jacco Arends was forced to withdraw midway through the first game.
The retirement of Dutch pair Arends and Selena Piek, the third seeds, handed victory to English top seeds Marcus Ellis and Lauren Smith, who were already 13-6 ahead at the time.
And while Ellis and Smith admitted they would have preferred to win the title on the court, they were both delighted with the way they played throughout the week in Glasgow.
"It is genuinely a horrible way to win," Ellis said. "I know we've come away with the title, but you want to win by being the best player or pair on the court.
"I think we were demonstrating that from the beginning, but it's horrible to see anyone go out like that and we can only hope that it's not as serious as it looked."
Ellis returned to the court in the men's doubles final to win his second title of the week alongside Chris Langridge.
In the women's doubles, Bulgarian top seeds Gabriela and Stefani Stoeva claimed a 21-16 21-9 victory against French third seeds Emilie Lefel and Anne Tran.