World Series: San Francisco Giants sweep Detroit Tigers
Last updated on .From the section Baseball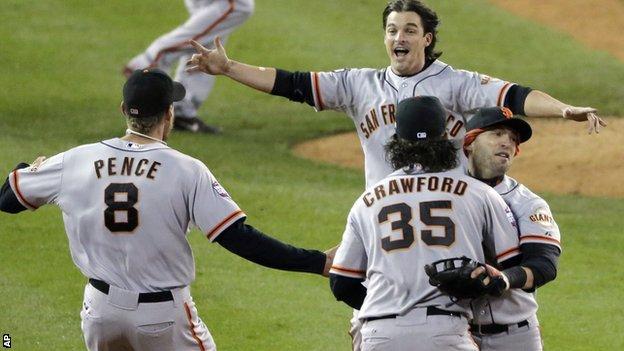 San Francisco Giants clinched their second World Series title in three years as a 4-3 win at Detroit Tigers sealed a 4-0 sweep in the Fall Classic.
Miguel Cabrera hit a two-run homer in the third inning to put the Tigers ahead for the first time in the series.
Catcher Buster Posey hammered a two-run shot of his own in the sixth to put the 2010 champions ahead but Delmon Young's solo home run levelled the game at 3-3.
Marco Scutaro drove in Ryan Theriot for the winning run in the 10th inning.
Giants' starting pitcher Matt Cain had stayed in the game for seven innings, giving up five hits, but after both sides failed to score in the seventh, eighth and ninth innings, the game went to extra innings.
Reliever Santiago Casilla was the winning pitcher after Scutaro's single in the top of the 10th, with two men out, proved the winning hit as Tigers left-hander Phil Coke took the loss.
After winning the National League West division, San Francisco had faced elimination on six occasions in the play-offs, coming from 2-0 down to beat Cincinnati Reds 3-2 in the NL Division Series, then trailed St Louis Cardinals 3-1 in the NL Championship Series before triumphing 4-3.
By contrast, American League Central champions Detroit made steady progress through the post-season, beating Oakland A's 3-2 in the AL Division Series and sweeping New York Yankees 4-0 in the AL Championship Series, allowing them the best part of a week's rest while the Giants toiled away.
Reflecting on the seven-game winning streak that handed them the title, Giants manager Bruce Bochy said: "When you look at the clubs that we played, and having our backs to the wall, it's pretty remarkable what these guys have done.
"It's amazing what a club can do when they play as a team. They're unselfish and they do whatever they can to help a club win.
"For us to play like we did against this great club, I couldn't be prouder."
Tigers manager Jim Leyland conceded: "You can't sit up here and try to find some reason or excuse. They beat us. They earned it, we just spluttered offensively.
"If somebody told me in spring training that we would be in the World Series, I would have had to say 'I'll take that'. But we didn't hit enough, so you just move on. Congratulations to the Giants, they did a fantastic job."
The Giants' burly third baseman Pablo Sandoval, nicknamed "Kung Fu Panda", was named as the series' Most Valuable Player, having hit three home runs in the opening match which the Giants won 8-3 - only the fourth player to do so in a World Series game.