World Series 2013: Boston Red Sox beat St Louis Cardinals
By Richard Warry
BBC Sport
Last updated on .From the section Baseball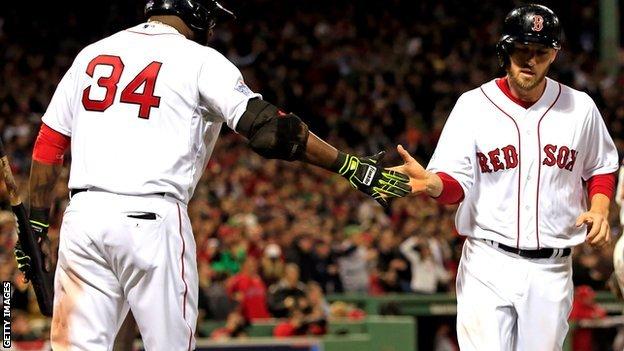 Boston Red Sox opened the World Series with an 8-1 win against St Louis Cardinals.
Red Sox took a 5-0 lead after two innings in the first of the best-of-seven-game Fall Classic at their historic Fenway Park stadium.
Boston, spurred on by the passionate home fans, took advantage of an uncertain start by Cardinals' pitcher, Adam Wainwright.
Inspired by their in-form pitcher, John Lester, they never looked in trouble.
Red Sox stated their intentions early on when designated hitter David Ortiz hit a line drive in the first inning.
Cardinals' shortstop Pete Kozma fluffed a chance to make what seemed to be a routine out, failing to control the ball when it was flipped to him by team-mate Matt Carpenter.
The second base umpire initially ruled that Kozma had caught the ball, but following an appeal by Red Sox manager John Farrell the umpires consulted, and overturned the decision.
This gave Mike Napoli the chance to drive in three runs on a fly ball hit to deep left field.
A second Kozma mistake in the second inning enabled Red Sox to take a stranglehold on the game.
In contrast, Sox pitcher Lester completed seven and two thirds innings without giving up a run - the first time a starting pitcher has held opponents scoreless in the opening game of the World Series for 23 years.
Ryan Dempster gave up Matt Holliday's home run in the ninth as Cardinals finally got on the scoresheet.
Earlier Ortiz had sent the Boston faithful into a frenzy by crunching a home run in the seventh inning, extending the lead to 7-0, and capping a strong all-round performance by Red Sox in their first World Series appearance since 2007.
Cardinals' manager Mike Matheny described the game as a "wake up call" for his team. He said the controversial overturned call had been "a tough one to swallow".
There was more bad news for Cardinals when their leading bat Carlos Beltran was taken to hospital with bruised ribs after crashing into the right field wall when making a spectacular catch to deny Ortiz a Grand Slam (four run home run).
Game two takes place at Fenway Park on Thursday evening, before the series moves to St Louis.