World Series 2013: St Louis Cardinals beat Boston Red Sox
Last updated on .From the section Baseball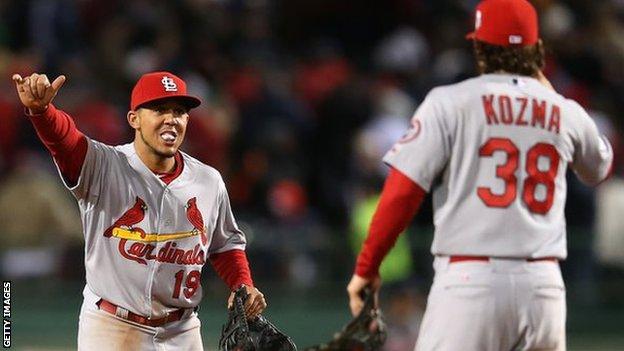 The St Louis Cardinals levelled the best-of-seven World Series with a 4-2 win over Boston Red Sox in game two.
Trailing 2-1 after six innings at Boston's Fenway Park, the Cardinals scored three times in the seventh.
The turning point in a tight affair came after the Red Sox's starting pitcher John Lackey was removed after six strong innings with Pete Kozma and Jon Jay on base.
Jay scored the go-ahead run on relief pitcher Craig Breslow's throwing error.
Carlos Beltran, playing despite bruising his ribs badly in game one, followed up by driving in a third run with a single.
Red Sox opened the 2013 World Series with an 8-1 win on Thursday, but game two proved tougher and featured strong performances from starting pitchers of contrasting experience.
Hard-throwing rookie Michael Wacha, 22, came into the game with an outstanding post-season record for the Cardinals, winning all three games he started.
Lackey, 35, who pitched for Anaheim Anglels in the World Series in 2002, has returned to form this season after two disappointing years with the Red Sox.
Both pitchers dominated their opponents through the first three innings - and the Cardinals extended their record for the longest consecutive streak of scoreless first innings in the post season.
But they took a 1-0 lead in the fourth innings when Matt Holliday scored after hitting a triple to right-centre field.
David Ortiz put the Red Sox in front with a two-run home run off Wacha over the iconic green monster left field wall in the sixth innings - his fifth home run of the post season.
But following the Cardinals's rally, the Red Sox batting line-up was restricted by St Louis relief pitcher Carlos Martinez, who pitched two strong innings, and closing pitcher Trevor Rosenthal, who completed the job in the ninth.
Red Sox manager John Farrell, speaking about the seventh innings, said: "It was uncharacteristic of the way we have taken care of the baseball this year."
Earlier, John Lester, the Red Sox ace pitcher who won game one on Wednesday, denied claims he had cheated by concealing a sticky substance in his pitching glove to manipulate the flight of the baseball.
He said it was rosin - a form of resin - used to help him get a better grip on the ball.
The series now moves to Busch Stadium in St Louis on Saturday.